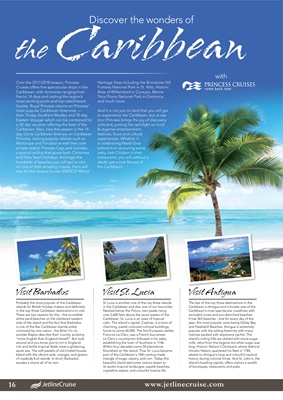 16Over the 2017/2018 season, Princess
Cruises offers five spectacular ships in the
Caribbean, with itineraries ranging from
five to 14 days and visiting the region's
most exciting ports and top-rated beach
locales. Royal Princess returns on Princess'
most popular Caribbean itineraries -
their 10-day Southern Medley and 10-day
Eastern Voyager which can be combined for
a 20-day vacation offering the best of the
Caribbean. Also, new this season is the 14-
day Circle Caribbean itinerary on Caribbean
Princess, visiting popular islands such as
Martinque and Trinidad as well their own
private island, Princess Cays and includes
a special sailing that spans both Christmas
and New Year's holidays. Amongst the
hundreds of beaches you will get to visit
on one of their amazing cruises, there will
also be the chance to see UNESCO World
Heritage Sites including the Brimstone Hill
Fortress National Park in St. Kitts, Historic
Area of Willemstad in Curaçao, Morne
Trois Pitons National Park in Dominica,
and much more.
And it is not just on land that you will get
to experience the Caribbean, but at sea
too! Princess brings the joy of discovery
onboard, putting the spotlight on local
& regional entertainment,
festivals, food and cultural
experiences. Whether it
is celebrating Mardi Gras
onboard or savouring some
zesty Jerk Chicken in their
restaurants, you will without a
doubt get a true flavour of
the Caribbean.
Discover the wonders of
the Caribbean
Visit Antigua
The last of the top three destinations in the
Caribbean is Antigua and it boasts one of the
Caribbean's most spectacular coastlines with
secluded coves and sun-drenched beaches.
It has 365 beaches - one for every day of the
year; the most popular ones being Galley Bay
and Hawksbill Beaches. Antigua is extremely
popular with the sailing fraternity with many
marinas packed with expensive yachts. The
island's rolling hills are dotted with stone sugar
mills, relics from the bygone era when sugar was
king. Historic Nelson's Dockyard, where Admiral
Horatio Nelson quartered his fleet in 1784,
attests to Antigua's long and colourful nautical
history during colonial times. And St. John's, the
island's bustling capital, offers visitors a wealth
of boutiques, restaurants and pubs.
with
Visit Barbados
Probably the most popular of the Caribbean
islands for British holiday makers and definitely
in the top three Caribbean destinations to visit.
There are two reasons for this - the incredible
white sand beaches on the sheltered western
side of the island and the fact that Barbados
is one of the few Caribbean islands solely
colonised by one nation...the Brits! It's no
wonder Bajans describe their country as being
"more English than England herself". But look
around and you know you're not in England:
rich and fertile tropical fields meet a glistening,
azure sea. The soft pastels of old chattel houses
blend with the vibrant reds, oranges, and greens
of roadside fruit stands. In short, Barbados
exudes a charm all of its own.
Visit St. Lucia
St Lucia is another one of the top three islands
in the Caribbean and also one of our favourites.
Nestled below the Pitons, twin peaks rising
over 2,600 feet above the azure waters of the
Caribbean, St. Lucia is an oasis of tropical
calm. The island's capital, Castries, is a town of
charming, pastel-coloured colonial buildings,
home to some 60,000. The first European settler,
Francois Le Clerc, was a French buccaneer.
Le Clerc's countrymen followed in his wake,
establishing the town of Soufriere in 1746.
Within four decades some 50 plantations
flourished on the island. Thus St. Lucia became
part of the Caribbean's 18th-century trade
triangle of sugar, slavery, and rum. Today this
beautiful island welcomes visitors drawn to
its exotic tropical landscape, superb beaches,
crystalline waters, and colourful marine life.