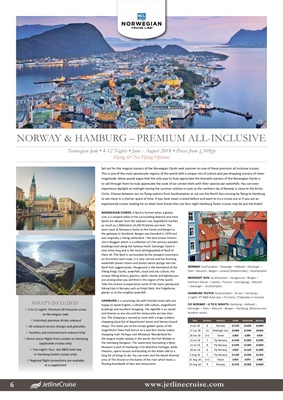 6
NORWEGIAN FJORDS: A fjord is formed when a glacier
cuts a U-shaped valley in the surrounding bedrock and most
fjords are deeper than the adjacent sea; Sognefjord reaches
as much as 1,300metres (4,265 ft) below sea level. The
west coast of Norway is home to the Fjords and Bergen is
the gateway to Fjordland. Bergen was founded in 1070 and
was originally a Viking settlement - the best known historic
site is Bryggen which is a collection of 11th century wooden
buildings built along the harbour front. Geiranger Fjord is
nine miles long and is the most photographed of fjord of
them all. This fjord is surrounded by the steepest mountains
on the entire west coast, it is very narrow and has foaming
waterfalls (Seven Sisters and Suitor) which plunge into the
fjord from jagged peaks. Haugesund is the homeland of the
Viking Kings. Fjords, waterfalls, coast and city culture, the
unique Viking history, glaciers, idyllic islands and lighthouses
are among what you will find in this region of the world.
Take this chance to experience some of the most spectacular
hiking trips in Norway such as Pulpit Rock, the Folgefonna
glacier or to the Langfoss waterfall.
HAMBURG is a surprising city with friendly locals who are
happy to speak English, a vibrant café culture, magnificent
buildings and excellent shopping. The nightlife is as varied
and diverse as any city and the restaurants are top class
too. The shopping is second to none with a huge outdoor
shopping plaza full of department stores and famous brand
shops. This leads you to the ornate golden spires of the
magnificent Town Hall and on to a vast four storey indoor
shopping mall. Perhaps visit Miniature Wunderland for
the largest model railway in the world, the Fish Market or
the Hamburg Dungeon. The supremely fascinating U-Boat
Museum is part of Hamburg's rich Maritime heritage; while
theatres, opera houses and boating on the Alster add to a
long list of things to do. You can even visit the beach themed
area of The Strand on the banks of the river which hosts a
floating boardwalk of bars and restaurants.
NORWAY & HAMBURG - PREMIUM ALL-INCLUSIVE
Norwegian Jade • 4-12 Nights • June - August 2018 • Prices from £369pp
Flying & No Flying Options
WHAT'S INCLUDED:
✥ 2 to 12 nights' Premium All-Inclusive cruise
on Norwegian Jade
✥ Unlimited premium drinks onboard
✥ All onboard service charges and gratuities
✥ Facilities and entertainment onboard ship
✥ Direct return flights from London to Hamburg
(applicable cruises only)
✥ Two nights' four- star B&B hotel stay
in Hamburg (taster cruises only)
✥ Regional flight connections are available
at a supplement
Set sail for the magical scenery of the Norwegian Fjords next summer on one of these premium all inclusive cruises.
This is one of the most spectacular regions of the world with a unique mix of culture and jaw dropping scenery of sheer
magnitude. Many would argue that the only way to truly appreciate the dramatic scenery of the Norwegian Fjords is
to sail through them to truly appreciate the scale of ice carved inlets with their spectacular waterfalls. You can even
experience daylight at midnight during the summer solstice in June as the northern tip of Norway is close to the Arctic
Circle. Choose between our no flying options from Southampton or cut out the North Sea crossing by flying to Hamburg
to see more in a shorter space of time. If you have never cruised before and want to try a cruise out or if you are an
experienced cruiser looking for an ideal short break then our four night Hamburg Taster cruises may be just the ticket!
NORWAY: Southampton - Stavanger - Hellesylt - Geiranger -
Flam - Alesund - Bergen - Lerwick (Shetland Isles) - Southampton
MIDNIGHT SUN: Southampton - Haugesund - Bergen -
Svertisen Glacier - Leknes - Tromso - Honnigsvag - Alesund
- Stavanger - Southampton
HAMBURG TASTER: Southampton - At sea - Hamburg -
2 nights' 4* B&B Hotel stay - Fly home. (*Operates in reverse)
FLY NORWAY - 6 TO 8 NIGHTS: Hamburg - Hellesylt -
Geiranger - Flam - Alesund - Bergen - Hamburg. (Itinerary and
duration varies)
Date Duration Itinerary Inside Oceanview Balcony
8 Jun 18 9 Norway £1139 £1429 £1899
17 Jun 18 12 Midnight Sun £1499 £1599 £2439
29 Jun 18 2+2 Taster £369 £399 £429
15 Jul 18 7 Fly Norway £1149 £1359 £1599
22 Jul 18 8 Fly Norway £1249 £1369 £1829
30 Jul 18 6 Fly Norway £929 £1129 £1399
5 Aug 18 7 Fly Norway £1199 £1359 £1559
21 Aug 18 2+2 Taster £459 £479 £499
25 Aug 18 9 Norway £1159 £1269 £1669