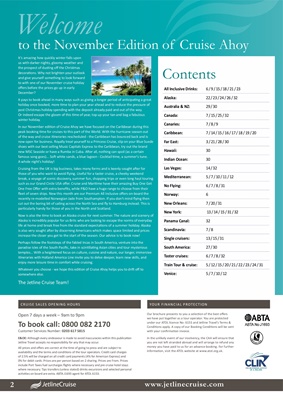 2 Open 7 days a week - 9am to 9pm
To book call: 0800 082 2170
Customer Services Number: 0203 617 5815
E&OE: Although every endeavour is made to avoid inaccuracies within this publication
Jetline Travel accepts no responsibility for any that may occur.
All prices and offers are correct at the time of going to press and are subject to
availability and the terms and conditions of the tour operators. Credit card charges
of 2.5% will be charged on all credit card payments (4% for American Express) and
0% for debit cards. Prices are per person based on 2 sharing. Prices are From. Prices
include Port Taxes fuel surcharges flights where necessary and pre cruise hotel stays
where necessary. Tips transfers (unless stated) drinks excursions and selected personal
activities on board are extra. ABTA J1693 agent for ATOL 6153.
CRUISE SALES OPENING HOURS
Our brochure presents to you a selection of the best offers
we have put together as a tour operator. You are protected
under our ATOL licence No: 6153 and Jetline Travel's Terms &
Conditions apply. A copy of our Booking Conditions will be sent
with your confirmation invoice.
In the unlikely event of our insolvency, the CAA will ensure that
you are not left stranded abroad and will arrange to refund any
money you have paid to us for an advance booking. For further
information, visit the ATOL website at www.atol.org.uk.
YOUR FINANCIAL PROTECTION
All Inclusive Drinks: 6 / 9 / 15 / 18 / 21 / 23
Alaska: 22 / 23 / 24 / 26 / 32
Australia & NZ: 29 / 30
Canada: 7 / 15 / 25 / 32
Canaries: 7 / 8 / 9
Caribbean: 7 / 14 / 15 / 16 / 17 / 18 / 19 / 20
Far East: 3 / 21 / 28 / 30
Hawaii: 30
Indian Ocean: 30
Las Vegas: 14 / 32
Mediterranean: 5 / 7 / 10 / 11 / 12
No Flying: 6 / 7 / 8 / 31
Norway: 6
New Orleans: 7 / 20 / 31
New York: 13 / 14 / 15 / 31 / 32
Panama Canal: 32
Scandinavia: 7 / 8
Single cruisers: 13 / 15 / 31
South America: 27 / 30
Taster cruises: 6 / 7 / 8 / 32
Train Tour & cruise: 5 / 12 / 15 / 20 / 21 / 22 / 23 / 24 / 31
Venice: 5 / 7 / 10 / 12
Contents
It's amazing how quickly winter falls upon
us with darker nights, gloomy weather and
the prospect of dusting off the Christmas
decorations. Why not brighten your outlook
and give yourself something to look forward
to with one of our November cruise holiday
offers before the prices go up in early
December?
It pays to book ahead in many ways such as giving a longer period of anticipating a great
holiday once booked, more time to plan your year ahead and to reduce the pressure of
post Christmas holiday spending with the deposit already paid and out of the way.
Or indeed escape the gloom of this time of year, top up your tan and bag a fabulous
winter holiday.
In our November edition of Cruise Ahoy we have focused on the Caribbean during this
peak booking time for cruises to this part of the World. With the hurricane season out
of the way and cruise itineraries rescheduled - the Caribbean has bounced back and is
now open for business. Royally treat yourself to a Princess Cruise, slip on your Blue Suede
shoes with our best selling Music Capitals Express to the Caribbean, try out the brand
new MSC Seaside or have a Rumba in Cuba. After all, nothing can spoil (as a certain
famous song goes)... Soft white sands, a blue lagoon - Cocktail time, a summer's tune.
A whole night's holiday!
Cruising from the UK is big business, takes many forms and is keenly sought after for
those of you who want to avoid flying. Useful for a taster cruise, a cheeky weekend
break, a voyage of scenic discovery, summer fun, shopping trips or even long haul touring
such as our Grand Circle USA offer. Cruise and Maritime have their amazing Buy One Get
One Free Offer with extra benefits, while P&O have a huge range to choose from their
fleet of seven ships. New this month are our Premium All Inclusive offers on-board the
recently re-modelled Norwegian Jade from Southampton. If you don't mind flying then
cut out the boring bit of sailing across the North Sea and fly to Hamburg instead. This is
particularly handy for those of you in the North and Scotland.
Now is also the time to book an Alaska cruise for next summer. The nature and scenery of
Alaska is incredibly popular for us Brits who are looking to escape the norms of everyday
life at home and break free from the standard expectations of a summer holiday. Alaska
is also very sought after by discerning Americans which makes space limited and prices
increase the closer you get to the start of the season. Our advice is to book now!
Perhaps follow the footsteps of the fabled Incas in South America, venture into the
paradise isles of the South Pacific, take in scintillating Asian cities and tour mysterious
temples… With a heightened focus on culture, cuisine and nature, our longer, immersive
itineraries with Holland America Line invite you to delve deeper, learn new skills, and
enjoy more leisure time in comfort while cruising.
Whatever you choose - we hope this edition of Cruise Ahoy helps you to drift off to
somewhere else.
The Jetline Cruise Team!
Welcome to the November Edition of Cruise Ahoy