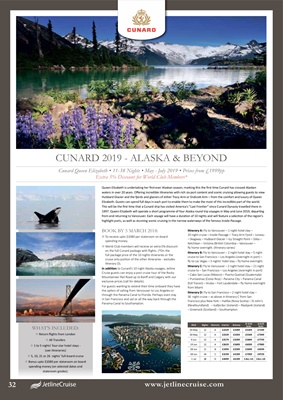 32
Itinerary A: Fly to Vancouver - 1 night hotel stay -
10 night cruise - Inside Passage - Tracy Arm Fjord - Juneau
- Skagway - Hubbard Glacier - Icy Straight Point - Sitka -
Ketchikan - Victoria (British Columbia - Vancouver -
fly home overnight. (Itinerary varies)
Itinerary B: Fly to Vancouver - 2 night hotel stay - 5 night
cruise to San Francisco - Los Angeles (overnight in port) -
fly to Las Vegas - 3 nights' hotel stay - fly home overnight.
Itinerary C: Fly to Vancouver - 2 night hotel stay - 21 night
cruise to - San Francisco - Los Angeles (overnight in port)
- Cabo San Lucas (Mexico) - Puerto Quetzal (Guatemala)
- Puntarenas (Costa Rica) - Panama City - Panama Canal
(full Transit) - Aruba - Fort Lauderdale - fly home overnight
from Miami
Itinerary D: Fly to San Francisco - 2 night hotel stay -
36 night cruise - as above in Itinerary C from San
Francisco plus New York - Halifax (Nova Scotia) - St John's
(Newfoundland) - Isafjordur (Iceland) - Reykjavik (Iceland)
- Greenock (Scotland) - Southampton.
WHAT'S INCLUDED:
✥ Return flights from London
✥ All Transfers
✥ 1 to 5 nights' four-star hotel stays -
(see itineraries)
✥ 5, 10, 21 or 26 nights' full-board cruise
✥ Bonus upto $1080 per stateroom on board
spending money (on selected dates and
stateroom grades).
Queen Elizabeth is undertaking her first-ever Alaskan season; marking this the first time Cunard has crossed Alaskan
waters in over 20 years. Offering incredible itineraries with rich six port content and scenic cruising allowing guests to view
Hubbard Glacier and the fjords and glaciers of either Tracy Arm or Endicott Arm - from the comfort and luxury of Queen
Elizabeth. Guests can spend full days in each port to enable them to make the most of this incredible part of the world.
This will be the first time that a Cunard ship has visited America's "Last Frontier" since Cunard Dynasty travelled there in
1997. Queen Elizabeth will operate a short programme of four Alaska round trip voyages in May and June 2019, departing
from and returning to Vancouver. Each voyage will have a duration of 10 nights and will feature a selection of the region's
highlight ports, as well as stunning scenic cruising in the narrow waterways of the famous Inside Passage.
2019 Nights Itinerary Interior Balcony Pr Grill
Suite
Q Grill
Suite
20 May 12 A £2329 £3299 £5359 £7199
30 May 12 A £2339 £3359 £5549 £7399
9 Jun 12 A £2579 £3599 £5849 £7739
19 Jun 12 A £2629 £3699 £6039 £7989
28 Jun 11 B £1999 £2599 £3699 £4599
28 Jun 24 C £3199 £4199 £7939 £9729
1 Jul 38 D £4499 £6199 CALL US CALL US
BOOK BY 5 MARCH 2018:
✥ To receive upto $1080 per stateroom on-board
spending money.
✥ World Club members will receive an extra 5% discount
on the full Cunard package with flights. (*On the
full package price of the 10 nights itineraries or the
cruise only portion of the other itineraries - excludes
Itinerary D).
In addition to Cunard's 10 night Alaska voyages, Jetline
Cruise guests can enjoy a post cruise tour of the Rocky
Mountaineer Rail Road up to Banff and Calgary with our
exclusive prices (call for details).
For guests wanting to extend their time onboard they have
the option of sailing from Vancouver to Los Angeles or
through the Panama Canal to Florida. Perhaps even stay
in San Francisco and sail or all the way back through the
Panama Canal to Southampton.
CUNARD 2019 - ALASKA & BEYOND
Cunard Queen Elizabeth • 11-38 Nights • May - July 2019 • Prices from £1999pp
Extra 5% Discount for World Club Members*