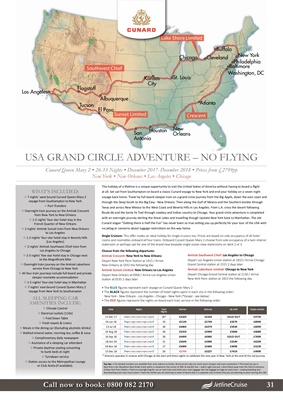 Call now to book: 0800 082 2170 31
Date Nights Total
Nights
Interior Balcony Qu Grill Single outside
15 Dec 17 7+0+1+1+2+1+2+1+1+3+7 26* £3329 £3329 SOLD OUT £5759
24 Jun 18 7+4+1+3+2+2+2+3+1+1+7 33 £5139 £5749 £9279 £8999
13 Jul 18 7+0+1+2+2+2+2+2+1+2+7 28 £4069 £4279 £5939 £6999
19 Aug 18 7+0+1+2+2+2+2+2+1+2+7 28 £3559 £3999 £5969 £6089
16 Sep 18 7+0+1+2+2+2+2+2+1+2+7 28 £4499 £4969 SOLD OUT £7699
18 Oct 18 7+2+1+3+2+2+2+2+1+2+7 31 £3649 £3999 £5549 £6299
18 Nov 18 7+0+1+2+2+2+2+2+1+1+7 27 £3099 £3469 £4999 £5239
15 Dec 18 7+0+1+1+2+2+2+2+1+1+7 26 £2799 £3227 £7419 £4999
* Itinerary operates in reverse with Chicago at the start and three nights to celebrate the new year in New York at the end of the rail journey.
WHAT'S INCLUDED:
✥ 7 nights' west-bound Cunard Queen Mary 2
voyage from Southampton to New York
✥ Port Transfers
✥ Overnight train journey on the Amtrak Crescent
from New York to New Orleans
✥ 1-3 nights' four-star hotel stay in the
French Quarter of New Orleans
✥ 2 nights' Amtrak Sunset train from New Orleans
to Los Angeles
✥ 1-2 nights' four-star hotel stay in Beverly Hills
(Los Angeles)
✥ 2 nights' Amtrak Southwest Chief train from
Los Angeles to Chicago
✥ 2-3 nights' five-star hotel stay in Chicago next
to the Magnificent Mile
✥ Overnight train journey on the Amtrak Lakeshore
service from Chicago to New York
✥ All four train journeys include full board and private
sleeper roomette accommodation
✥ 1-5 nights' four-star hotel stay in Manhattan
✥ 7 nights' east-bound Cunard Queen Mary 2
voyage from New York to Southampton
ALL SLEEPING CAR
AMENITIES INCLUDE:
✥ Climate Control
✥ Electrical outlets (110v)
✥ Fold Down Table
✥ Fresh towels & Linens
✥ Meals in the dining car (Excluding alcoholic drinks)
✥ Bottled mineral water, morning tea, coffee & Juice
✥ Complimentary daily newspaper
✥ Assistance of a sleeping car attendant
✥ Private daytime seating converting
to bunk beds at night
✥ Turndown service
✥ Station access to the Metropolitan Lounge
or Club Acela (if available).
This holiday of a lifetime is a unique opportunity to visit the United States of America without having to board a flight
at all. Set sail from Southampton on board a classic Cunard voyage to New York and end your holiday on a seven night
voyage back home. Travel by full-board sleeper train on a grand circle journey from the Big Apple, down the east coast and
through the Deep South to the Big Easy - New Orleans. Then along the Gulf of Mexico and the Southern border through
Texas and across New Mexico to the West Coast and Beverly Hills in Los Angeles. From L.A. cross the desert following
Route 66 and the Santa Fe Trail through cowboy and Indian country to Chicago. Your grand circle adventure is completed
with an overnight journey skirting the Great Lakes and travelling though Upstate New York back to Manhattan. The old
Cunard slogan "Getting there is Half the Fun" has never been so true setting you up perfectly for your tour of the USA with
no jetlag or concerns about luggage restrictions on the way home.
Cleveland
Atlanta
New
Orleans
Houston
San
Antonio
El Paso
Tucson
Flagstaff Albuquerque
Los Angeles
St. Louis
Kansas
City
Chicago
Buffalo Philadelphia
New York
Washington, DC
Baltimore
oSunset Limited
Southwest Chief
Lake Shore Limited
Crescent
• The BLUE figures represent each voyage on Cunard Queen Mary 2
• The BLACK figures represent the number of hotel nights spent in each city in the following order:-
New York - New Orleans - Los Angeles - Chicago - New York (*Except - see below)
• The RED figures represent the nights on board each train service in the following order:
Single Cruisers: This offer makes an ideal holiday for single cruisers too. Prices are based on sole occupancy of all hotel
rooms and roomettes onboard all four trains. Onboard Cunard Queen Mary 2 choose from sole occupancy of a twin interior
stateroom or perhaps opt for one of the brand new bespoke single ocean-view staterooms on deck 2 or 3.
Choose from the following departures
Amtrak Crescent: New York to New Orleans
Depart New York Penn Station at 1415 / Arrive
New Orleans at 1932 the following day
Amtrak Sunset Limited: New Orleans to Los Angeles
Depart New Orleans at 0900 / Arrive Los Angeles Union
station at 0535 2 days later
Amtrak Southwest Chief: Los Angeles to Chicago
Depart Los Angeles Union station at 1810 / Arrive Chicago
Grand Central station at 1515 2 days later
Amtrak Lakeshore Limited: Chicago to New York
Depart Chicago Grand Central station at 2130 / Arrive
New York Penn station at 1823 the following day
Top tips: • Pre-booked transfers are available from train stations to hotels. But local taxi cabs are much more cheaper and more convenient • The hotel we use in
New York is the Wyndham New Yorker hotel which is situated on the corner of 34th St and 8th Ave - within sight and just 1 short block away from the 33rd St entrance
of New York Penn Station • Pack an overnight bag for use on each train and check your main luggage into the luggage carriage on each train - making boarding and
disembarking each train much easier • Pack the clothes you are planning to wear on board ship in a separate case to those that you are planning to wear touring the USA
USA GRAND CIRCLE ADVENTURE - NO FLYING
Cunard Queen Mary 2 • 26-33 Nights • December 2017-December 2018 • Prices from £2799pp
New York • New Orleans • Los Angeles • Chicago