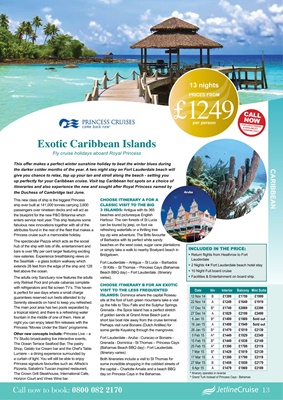 CARIBBEAN
Exotic Caribbean Islands
Fly cruise holidays aboard Royal Princess
13 nights
PRICES FROM
£1249per person
This offer makes a perfect winter sunshine holiday to beat the winter blues during
the darker colder months of the year. A two night stay on Fort Lauderdale beach will
give you chance to relax, top up your tan and stroll along the beach - setting you
up perfectly for your Caribbean cruise. Visit top Caribbean hot spots on a choice of
itineraries and also experience the new and sought after Royal Princess named by
the Duchess of Cambridge last June.
This new class of ship is the biggest Princess
ship ever built at 141,000 tonnes carrying 3,600
passengers over nineteen decks and will act as
the blueprint for the new P&O Britannia which
enters service next year. This ship features some
fabulous new innovations together with all of the
attributes found in the rest of the fleet that makes a
Princess cruise such a memorable holiday.
The spectacular Piazza which acts as the social
hub of the ship with lots of life, entertainment and
bars is over fifty per cent larger featuring exciting
new eateries. Experience breathtaking views on
the SeaWalk - a glass bottom walkway which
extends 28 feet from the edge of the ship and 128
feet above the ocean.
The adults only Sanctuary now features the adults
only Retreat Pool and private cabanas complete
with refrigerators and flat screen TV's. This haven
is perfect for sea days where a small charge
guarantees reserved sun beds attended to by
Serenity stewards on hand to keep you refreshed.
The main pool area has two pools separated by
a tropical island; and there is a refreshing water
fountain in the middle of one of them. Here at
night you can enjoy latest film releases with the
Princess "Movies Under the Stars" programme.
Other new concepts include: Princess Live - a
TV Studio broadcasting live interactive events,
The Ocean Terrace Seafood Bar, The pastry
Shop, Gelato Ice Cream bar and the Chef's Table
Lumiere - a dining experience surrounded by
a curtain of light. You will still be able to enjoy
Princess signature favourites such as: Alfredo's
Pizzeria, Sabatini's Tuscan inspired restaurant,
The Crown Grill Steakhouse, International Cafe,
Horizon Court and Vines Wine bar.
CHOOSE ITINERARY A FOR A
CLASSIC VISIT TO THE BIG
3 ISLANDS: Antigua with its 365
beaches and picturesque English
Harbour. The rain forests of St Lucia
can be toured by jeep, on foot via
refreshing waterfalls or a thrilling tree
top zip wire adventure. The Brits favourite
of Barbados with its perfect white sandy
beaches on the west coast, sugar cane plantations
or simply take a walk to nearby Boatyard beach in
Bridgetown.
Fort Lauderdale - Antigua - St Lucia - Barbados
- St Kitts - St Thomas - Princess Cays (Bahamas
Beach BBQ day) - Fort Lauderdale. (Itinerary
varies).
CHOOSE ITINERARY B FOR AN EXOTIC
VISIT TO THE LESS FREQUENTED
ISLANDS: Dominica where the capital Roseau
sits at the foot of lush green mountains take a visit
up the hills to Titou Falls and the Sulphur Springs.
Grenada - the Spice Island has a perfect stretch
of golden sands at Grand Anse Beach just a
short taxi boat ride away from the cruise terminal.
Perhaps visit rural Bonaire (Dutch Antilles) for
some gentle Kayaking through the mangroves.
Fort Lauderdale - Aruba - Curacao or Bonaire -
Grenada - Dominica - St Thomas - Princess Cays
(Bahamas Beach BBQ day) - Fort Lauderdale.
(Itinerary varies)
Both itineraries include a visit to St Thomas for
some incredible shopping in the cobbled streets of
the capital - Charlotte Amalie and a beach BBQ
day on Princess Cays in the Bahamas.
INCLUDED IN THE PRICE:
• Return flights from Heathrow to Fort
Lauderdale
• 2 Nights 4 Fort Lauderdale beach hotel stay
• 10 Night Full board cruise
• Facilities & Entertainment on board ship.
Date Itin Interior Balcony Mini Suite
12 Nov 14 B £1399 £1759 £1999
22 Nov 14 A £1249 £1649 £1919
17 Dec 14 BR £1749 £2069 £2399
27 Dec 14 A £1829 £2199 £2499
6 Jan 15 BR £1499 £1889 Sold out
16 Jan 15 A £1499 £1949 Sold out
26 Jan 15 B^ £1479 £1819 £2139
5 Feb 15 A^ £1449 £1929 £2349
15 Feb 15 BR £1449 £1839 £2149
25 Feb 15 AR £1399 £1799 £2119
7 Mar 15 BR £1429 £1819 £2139
17 Mar 15 A £1399 £1799 £2119
27 Mar 15 B £1459 £1859 £2179
6 Apr 15 A £1479 £1869 £2189
R Itinerary operates in reverse
^ Grand Turk Instead of Princess Cays - Bahamas
Aruba
Call now to book: 0800 082 2170 13