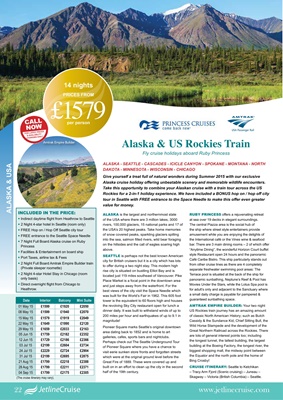 ALASKA & USA
ALASKA - SEATTLE - CASCADES - ICICLE CANYON - SPOKANE - MONTANA - NORTH
DAKOTA - MINNESOTA - WISCONSIN - CHICAGO
Give yourself a treat full of natural wonders during Summer 2015 with our exclusive
Alaska cruise holiday offering unbeatable scenery and memorable wildlife encounters.
Take this opportunity to combine your Alaskan cruise with a train tour across the US
Rockies for a 2-in-1 holiday experience. We have included a BONUS hop on / hop off city
tour in Seattle with FREE entrance to the Space Needle to make this offer even greater
value for money.
Alaska & US Rockies Train
Fly cruise holidays aboard Ruby Princess
14 nights
PRICES FROM
£1579per person
INCLUDED IN THE PRICE:
• Indirect daytime flight from Heathrow to Seattle
• 2 Night 4-star hotel In Seattle (room only)
• FREE Hop on / Hop Off Seattle city tour
• FREE entrance to the Seattle Space Needle
• 7 Night Full Board Alaska cruise on Ruby
Princess
• Facilities & Entertainment on board ship
• Port Taxes, airline tax & Fees
• 2 Night Full Board Amtrak Empire Builder train
(Private sleeper roomette)
• 2 Night 4-star Hotel Stay in Chicago (room
only basis)
• Direct overnight flight from Chicago to
Heathrow.
ALASKA is the largest and northernmost state
of the USA where there are 3 million lakes, 3000
rivers, 100,000 glaciers, 15 national parks and 17 of
the USA's 20 highest peaks. Take home memories
of snow covered peaks, sparkling glaciers spilling
into the sea, salmon filled rivers, wild bear foraging
on the hillsides and the call of eagles soaring high
above.
SEATTLE is perhaps not the best known American
city for British cruisers but it is a city which has lots
to offer during a two night stay. This modern high
rise city is situated on bustling Elliot Bay and is
located just 119 miles southeast of Vancouver. Pike
Place Market is a focal point in the downtown area
and just steps away from the waterfront. For the
best views of the city visit the Space Needle which
was built for the World's Fair in 1962. This 605 foot
tower is the equivalent to 60 floors high and houses
the revolving Sky City restaurant open for lunch a
dinner daily. It was built to withstand winds of up to
200 miles per hour and earthquakes of up to 9.1 in
magnitude!
Pioneer Square marks Seattle's original downtown
area dating back to 1852 and is home to art
galleries, cafes, sports bars and nightclubs.
Perhaps check out The Seattle Underground Tour
of Pioneer Square where you have a chance to
visit eerie sunken store fronts and forgotten streets
which were at the original ground level before the
Great Fire of 1889. These were covered up and
built on in an effort to clean up the city in the second
half of the 19th century.
RUBY PRINCESS offers a rejuvenating retreat
at sea over 19 decks in elegant surroundings.
The central Piazza area is the social hub of
the ship where street style entertainers provide
amusement while you are enjoying the delights of
the International café or the Vines wine & seafood
bar. There are 3 main dining rooms - 2 of which offer
"Anytime Dining", the wonderful Horizon Court buffet
style Restaurant open 24 hours and the panoramic
Café Caribe Bistro. This ship particularly stands out
from other cruise lines as there are 4 completely
separate freshwater swimming pool areas: The
Terrace pool is situated at the back of the ship for
panoramic sunbathing, Neptune's Reef & Pool has
Movies Under the Stars, while the Lotus Spa pool is
for adult's only and adjacent to the Sanctuary where
a small daily charge is payable for pampered &
guaranteed sunbathing space.
AMTRAK EMPIRE BUILDER: Your two night
US Rockies train journey has an amazing amount
of classic North American History; such as Butch
Cassidy & the Sundance Kid, Chief Sitting Bull, the
Wild Horse Stampede and the development of the
Great Northern Railroad across the Rockies. There
are lots of general interest points too; including
the longest tunnel, the tallest building, the largest
building at the Boeing Factory, the longest river, the
biggest shopping mall, the midway point between
the Equator and the north pole and the home of
Bing Crosby!
CRUISE ITINERARY: Seattle to Ketchikan
- Tracy Arm Fjord (Scenic cruising) - Juneau -
Skagway - Victoria (British Columbia) - Seattle.
Date Interior Balcony Mini Suite
01 May 15 £1599 £1920 £2050
08 May 15 £1599 £1940 £2070
15 May 15 £1579 £1919 £2049
22 May 15 £1649 £1990 £2120
29 May 15 £1659 £2033 £2163
05 Jun 15 £1759 £2182 £2352
12 Jun 15 £1729 £2186 £2366
03 Jul 15 £2199 £2604 £2734
24 Jul 15 £2229 £2724 £2904
31 Jul 15 £2199 £2695 £2875
21 Aug 15 £1799 £2218 £2388
28 Aug 15 £1799 £2211 £2371
04 Sep 15 £1799 £2175 £2305
(The cruise itinerary may vary).
Amtrak Empire Builder