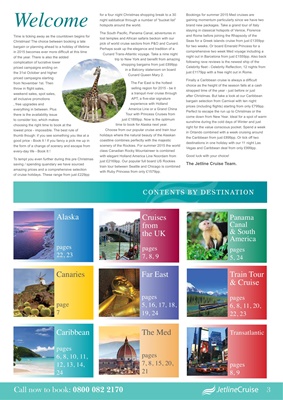 3 to book visit: www.jetlinecruise.com or call: 0800 082 2170
3 to book visit: www.jetlinecruise.com or call: 0800 082 2170
Call now to book: 0800 082 2170 3
CONTENTS BY DESTINATION
WelcomeTime is ticking away as the countdown begins for
Christmas! The choice between booking a late
bargain or planning ahead to a holiday of lifetime
in 2015 becomes ever more difficult at this time
of the year. There is also the added
complication of lucrative lower
priced campaigns ending on
the 31st October and higher
priced campaigns starting
from November 1st. Then
throw in flight sales,
weekend sales, spot sales,
all inclusive promotions
, free upgrades and
everything in between. Plus
there is the availability issue
to consider too; which makes
choosing the right time to book at the
lowest price - impossible. The best rule of
thumb though: if you see something you like at a
good price - Book It ! If you fancy a pick me up in
the form of a change of scenery and escape from
every-day life - Book It !
To tempt you even further during this pre Christmas
saving / spending quandary we have sourced
amazing prices and a comprehensive selection
of cruise holidays. These range from just £229pp
for a four night Christmas shopping break to a 30
night sabbatical through a number of "bucket list"
hotspots around the world.
The South Pacific, Panama Canal, adventures in
lost temples and African safaris beckon with our
pick of world cruise sectors from P&O and Cunard.
Perhaps soak up the elegance and tradition of a
Cunard Trans-Atlantic voyage. Take a nine night
trip to New York and benefit from amazing
shopping bargains from just £899pp
in a Balcony stateroom on board
Cunard Queen Mary 2.
The Far East is the hottest
selling region for 2015 - be it
a tranquil river cruise through
APT, a five-star signature
experience with Holland
America Line or a Grand China
Tour with Princess Cruises from
just £1899pp. Now is the optimum
time to book for Alaska next year.
Choose from our popular cruise and train tour
holidays where the natural beauty of the Alaskan
coastline combines perfectly with the majestic
scenery of the Rockies. For summer 2015 the world
class Canadian Rocky Mountaineer is combined
with elegant Holland America Line Noordam from
just £2169pp. Our popular full board US Rockies
train tour between Seattle and Chicago is combined
with Ruby Princess from only £1579pp.
Bookings for summer 2015 Med cruises are
gaining momentum particularly since we have two
brand new packages. Take a grand tour of Italy
staying in classical hotspots of Venice, Florence
and Rome before joining the Rhapsody of the
Seas for a Greek islands cruise from just £1359pp
for two weeks. Or board Emerald Princess for a
comprehensive two week Med voyage including a
night out in Barcelona from just £1559pp. Also back
following rave reviews is the newest ship of the
Celebrity fleet - Celebrity Reflection; 12 nights from
just £1179pp with a free night out in Rome.
Finally a Caribbean cruise is always a difficult
choice as the height of the season falls at a cash
strapped time of the year - just before or just
after Christmas. But take a look at our Caribbean
bargain selection from Carnival with ten night
prices (including flights) starting from only £799pp.
Perfect to escape the run up to Christmas or the
come down from New Year. Ideal for a spot of warm
sunshine during the cold days of Winter and just
right for the value conscious pocket. Spend a week
in Orlando combined with a week cruising around
the Caribbean from just £899pp. Or tick off two
destinations in one holiday with our 11 night Las
Vegas and Caribbean deal from only £999pp.
Good luck with your choice!
The Jetline Cruise Team.
CONTENTS BY DESTINATION
Cruises
from
the UK
pages
7, 8, 9
The Med
pages
7, 8, 15, 20,
21
Panama
Canal
& South
America
pages
5, 24
Train Tour
& Cruise
pages
6, 8, 11, 20,
22, 23
Caribbean
pages
6, 8, 10, 11,
12, 13, 14,
24
Far East
pages
5, 16, 17, 18,
19, 24
Alaska
pages
22, 23
Canaries
page
7
Transatlantic
pages
8, 9