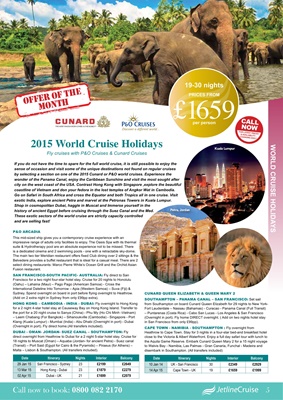 WORLD CRUISE HOLIDAYS
2015 World Cruise Holidays
Fly cruises with P&O Cruises & Cunard Cruises
19-30 nights
PRICES FROM
£1659per person
Kuala Lumpur
If you do not have the time to spare for the full world cruise, it is still possible to enjoy the
sense of occasion and visit some of the unique destinations not found on regular cruises
by selecting a section on one of the 2015 Cunard or P&O world cruises. Experience the
wonder of the Panama Canal, enjoy the Caribbean Sunshine and visit the most sought after
city on the west coast of the USA. Contrast Hong Kong with Singapore ,explore the beautiful
coastline of Vietnam and don your fedora in the lost temples of Angkor Wat in Cambodia.
Go on Safari in South Africa and cross the Equator and both Tropics all in one cruise. Visit
exotic India, explore ancient Petra and marvel at the Petronas Towers in Kuala Lumpur.
Shop in cosmopolitan Dubai, haggle in Muscat and Immerse yourself in the
history of ancient Egypt before cruising through the Suez Canal and the Med.
These exotic sectors of the world cruise are strictly capacity controlled
and are selling fast!
P&O ARCADIA
This mid-sized ship gives you a contemporary cruise experience with an
impressive range of adults only facilities to enjoy. The Oasis Spa with its thermal
suite & Hydrotherapy pool are an absolute experience not to be missed. There
is a dedicated cinema and 2 swimming pools - one with a retractable sky-dome.
The main two tier Meridian restaurant offers fixed Club dining over 2 sittings & the
Belvedere provides a buffet restaurant that is ideal for a casual meal. There are 2
select dining restaurants: Marco Pierre White's Ocean Grill and the Orchid Asian
Fusion restaurant.
SAN FRANCISCO-SOUTH PACIFIC- AUSTRALIA: Fly direct to San
Francisco for a two night four-star hotel stay. Cruise for 20 nights to Honolulu
(Oahu) - Lahaina (Maui) - Pago Pago (American Samoa) - Cross the
International Dateline Into Tomorrow - Apia (Western Samoa) - Suva (Fiji) &
Sydney. Spend overnight on board in port before flying overnight to Heathrow.
(Add on 2 extra night in Sydney from only £99pp extra).
HONG KONG - CAMBODIA - INDIA - DUBAI: Fly overnight to Hong Kong
for a 2 night 4-star hotel stay at Causeway Bay on Hong Kong Island. Transfer to
the port for a 20 night cruise to Sanya (China) - Phu My (Ho Chi Minh -Vietnam)
- Laem Chabang (For Bangkok) - Sihanoukville (Cambodia) - Singapore - Port
Klang (Kuala Lumpur) - Mumbai (India) - Abu Dhabi (Overnight in port) - Dubai
(Overnight in port). Fly direct home.(All transfers included).
DUBAI - OMAN- JORDAN- SUEZ CANAL - SOUTHAMPTON: Fly
direct overnight from Heathrow to Dubai for a 2 night 5-star hotel stay. Cruise for
18 nights to Muscat (Oman) - Aquaba (Jordan- for ancient Petra) - Suez canal
(Transit) - Port Said (Egypt for Cairo & the Pyramids) - Piraeus (for Athens) -
Malta - Lisbon & Southampton. (All transfers included).
Date Itinerary Nights Interior Balcony
29 Jan 15 San Francisco - Sydney 23 £2199 £2649
13 Mar 15 Hong Kong - Dubai 23 £1879 £2279
02 Apr 15 Dubai - UK 21 £1699 £2079
Call now to book: 0800 082 2170 5
OFFER OF THE
MONTH
CUNARD QUEEN ELIZABETH & QUEEN MARY 2
SOUTHAMPTON - PANAMA CANAL - SAN FRANCISCO: Set sail
from Southampton on board Cunard Queen Elizabeth for 29 nights to New York-
Fort Lauderdale - Nassau (Bahamas) - Curacao - Panama Canal (Full Transit)
- Puntarenas (Costa Rica) - Cabo San Lucas - Los Angeles & San Francisco
(Overnight in port). Fly home DIRECT overnight. ( Add on two nights hotel stay
in San Francisco from only £99pp).
CAPE TOWN - NAMIBIA - SOUTHAMPTON : Fly overnight from
Heathrow to Cape Town. Stay for 3 nights in a four-star bed-and breakfast hotel
close to the Victoria & Albert Waterfront. Enjoy a full day safari tour with lunch to
the Aquila Game Reserve. Embark Cunard Queen Mary 2 for a 15 night voyage
to Walvis Bay - Namibia, Las Palmas - Gran Canaria, Funchal - Madeira and
disembark in Southampton. (All transfers included)
Date Itinerary Nights Interior Balcony
10 Jan 14 UK - San Francisco 30 £2349 £2929
14 Apr 15 Cape Town - UK 19 £1659 £1999
Petra, Jordan