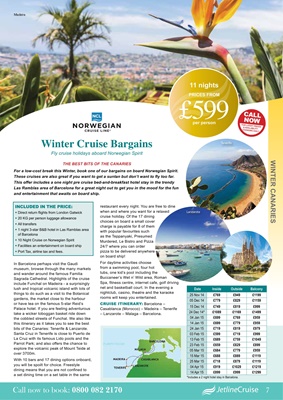 WINTER CANARIES
Winter Cruise Bargains
Fly cruise holidays aboard Norwegian Spirit
Madeira
11 nights
PRICES FROM
£599per person
Tenerife
THE BEST BITS OF THE CANARIES
For a low-cost break this Winter, book one of our bargains on board Norwegian Spirit.
These cruises are also great if you want to get a suntan but don't want to fly too far.
This offer includes a one night pre cruise bed-and-breakfast hotel stay in the trendy
Las Ramblas area of Barcelona for a great night out to get you in the mood for the fun
and entertainment that awaits on board ship.
In Barcelona perhaps visit the Gaudi
museum, browse through the many markets
and wander around the famous Familia
Sagrada Cathedral. Highlights of the cruise
include Funchal on Madeira - a surprisingly
lush and tropical volcanic island with lots of
things to do such as a visit to the Botanical
gardens, the market close to the harbour
or have tea on the famous 5-star Reid's
Palace hotel. If you are feeling adventurous
take a wicker toboggan basket ride down
the cobbled streets of Funchal. We also like
this itinerary as it takes you to see the best
bits of the Canaries: Tenerife & Lanzarote.
Santa Cruz in Tenerife is close to Puerto de
La Cruz with its famous Lido pools and the
Parrot Park; and also offers the chance to
explore the volcanic peak of Mount Teide at
over 3700m.
With 10 bars and 17 dining options onboard,
you will be spoilt for choice. Freestyle
dining means that you are not confined to
a set dining time on a set table in the same
restaurant every night. You are free to dine
when and where you want for a relaxed
cruise holiday. Of the 17 dining
choices on board a small cover
charge is payable for 8 of them
with popular favourites such
as the Teppanyaki, Presumed
Murdered, Le Bistro and Pizza
24/7 where you can order
pizza to be delivered anywhere
on board ship!
For daytime activities choose
from a swimming pool, four hot
tubs, one kid's pool including the
Buccaneer's Wet n' Wild area, Roman
Spa, fitness centre, internet cafe, golf driving
net and basketball court. In the evening a
nightclub, casino, theatre and the karaoke
rooms will keep you entertained.
CRUISE ITINERARY: Barcelona -
Casablanca (Morocco) - Madeira - Tenerife
- Lanzarote - Malaga - Barcelona.
INCLUDED IN THE PRICE:
• Direct return flights from London Gatwick
• 20 KG per person luggage allowance
• All transfers
• 1 night 3-star B&B hotel in Las Ramblas area
of Barcelona
• 10 Night Cruise on Norwegian Spirit
• Facilities an entertainment on board ship
• Port Tax, airline tax and fees.
Date Inside Outside Balcony
25 Nov 14 £769 £949 £1199
05 Dec 14 £779 £829 £1159
15 Dec 14 £749 £819 £999
24 Dec 14* £1089 £1169 £1499
04 Jan 15 £699 £769 £959
14 Jan 15 £699 £779 £959
24 Jan 15 £719 £819 £979
03 Feb 15 £599 £719 £999
13 Feb 15 £689 £759 £1049
23 Feb 15 £659 £829 £899
05 Mar 15 £684 £779 £959
15 Mar 15 £688 £889 £1119
25 Mar 15 £718 £879 £1119
04 Apr 15 £919 £1029 £1219
14 Apr 15 £899 £999 £1299
*Includes a 2 night hotel stay in Barcelona.
Lanzarote
Call now to book: 0800 082 2170 7
Barcelona