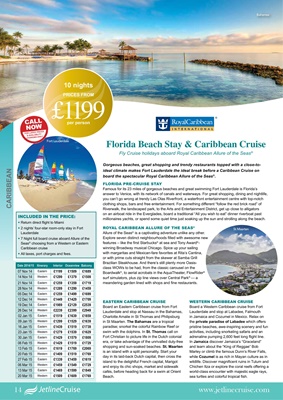 CARIBBEANGorgeous beaches, great shopping and trendy restaurants topped with a close-toideal climate makes Fort Lauderdale the ideal break before a Caribbean Cruise on
board the spectacular Royal Caribbean Allure of the Seas®.
FLORIDA PRE-CRUISE STAY
Famous for its 23 miles of gorgeous beaches and great swimming Fort Lauderdale is Florida's
answer to Venice, with its network of canals and waterways. For great shopping, dining and nightlife,
you can't go wrong at trendy Las Olas Riverfront, a waterfront entertainment centre with top-notch
clothing shops, bars and free entertainment. For something different "follow the red brick road" of
Riverwalk, the landscaped park, to the Arts and Entertainment District, get up close to alligators
on an airboat ride in the Everglades, board a traditional "All you wish to eat" dinner riverboat past
millionaires yachts, or spend some quiet time just soaking up the sun and strolling along the beach.
ROYAL CARIBBEAN ALLURE OF THE SEAS®
Allure of the Seas® is a captivating adventure unlike any other.
Explore seven distinct neighbourhoods filled with awesome new
features - like the first Starbucks® at sea and Tony Award®winning Broadway musical
Chicago. Spice up your sailing
with margaritas and Mexican-fare favorites at Rita's Cantina,
or with prime cuts straight from the skewer at Samba Grill
Brazilian Steakhouse. And there's still plenty more Oasisclass WOWs to be had, from the classic carousel on the
Boardwalk®, to aerial acrobats in the AquaTheater, FlowRider®
surf simulators, plus zip line views over Central Park® - a
meandering garden lined with shops and fine restaurants.
Florida Beach Stay & Caribbean Cruise
Fly Cruise holidays aboard Royal Caribbean Allure of the Seas®
Bahamas
10 nights
PRICES FROM
£1199per person
Fort Lauderdale
EASTERN CARIBBEAN CRUISE
Board an Eastern Caribbean cruise from Fort
Lauderdale and stop at Nassau in the Bahamas,
Charlotte Amalie in St Thomas and Philipsburg
in St Maarten. The Bahamas are a tropical
paradise; snorkel the colorful Rainbow Reef or
swim with the dolphins. In St. Thomas call on
Fort Christian to picture life in the Dutch colonial
era, or take advantage of the unrivalled duty-free
shopping and sun-soaked beaches. St. Maarten
is an island with a split personality. Start your
day in its laid-back Dutch capital, then cross the
island to the delightful French capital, Marigot
and enjoy its chic shops, market and sidewalk
cafés, before heading back for a swim at Orient
Beach.
WESTERN CARIBBEAN CRUISE
Board a Western Caribbean cruise from Fort
Lauderdale and stop at Labadee, Falmouth
in Jamaica and Cozumel in Mexico. Relax on
the private paradise of Labadee which offers
pristine beaches, awe-inspiring scenery and fun
activities, including snorkeling safaris and an
adrenaline pumping 2,600 feet long flight line.
In Jamaica discover Jamaica's "Graceland"
and learn about the "King of Reggae" Bob
Marley or climb the famous Dunn's River Falls,
while Cozumel is as rich in Mayan culture as in
wildlife. Discover magnificent ruins in Tulum and
Chichen Itza or explore the coral reefs offering a
world-class encounter with majestic eagle rays,
sea turtles and colorful tropical fish.
St Maarten
Date 2014/15 Itinerary Interior Oceanview Balcony
07 Nov 14 Eastern £1199 £1509 £1689
14 Nov 14 Western £1299 £1379 £1509
21 Nov 14 Eastern £1259 £1359 £1719
28 Nov 14 Western £1289 £1299 £1459
05 Dec 14 Eastern £1259 £1499 £1699
12 Dec 14 Western £1449 £1429 £1709
19 Dec 14 Eastern £1989 £2129 £2539
26 Dec 14 Western £2239 £2399 £2949
02 Jan 15 Eastern £1519 £1639 £1859
09 Jan 15 Western £1299 £1529 £1639
16 Jan 15 Eastern £1439 £1519 £1739
23 Jan 15 Western £1279 £1539 £1629
30 Jan 15 Eastern £1429 £1579 £1809
06 Feb 15 Western £1429 £1519 £1729
13 Feb 15 Eastern £1619 £1769 £2069
20 Feb 15 Western £1409 £1519 £1769
27 Feb 15 Eastern £1339 £1459 £1619
06 Mar 15 Western £1459 £1549 £1729
13 Mar 15 Eastern £1469 £1599 £1849
20 Mar 15 Western £1509 £1609 £1769
INCLUDED IN THE PRICE:
• Return direct flight to Miami
• 2 nights' four-star room-only stay in Fort
Lauderdale
• 7 Night full board cruise aboard Allure of the
Seas® choosing from a Western or Eastern
Caribbean cruise
• All taxes, port charges and fees.