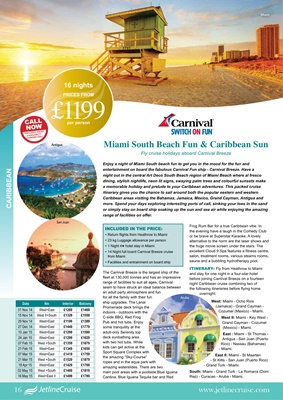 CARIBBEANEnjoy a night of Miami South beach fun to get you in the mood for the fun and
entertainment on board the fabulous Carnival Fun ship - Carnival Breeze. Have a
night out in the central Art Deco South Beach region of Miami Beach where al fresco
dining, stylish nightlife, neon lit signs, swaying palm trees and colourful sunsets make
a memorable holiday and prelude to your Caribbean adventures. This packed cruise
itinerary gives you the chance to sail around both the popular eastern and western
Caribbean areas visiting the Bahamas, Jamaica, Mexico, Grand Cayman, Antigua and
more. Spend your days exploring interesting ports of call, sinking your toes in the sand
or simply stay on board ship soaking up the sun and sea air while enjoying the amazing
range of facilities on offer.
Miami South Beach Fun & Caribbean Sun
Fly cruise holidays aboard Carnival Breeze
Miami
16 nights
PRICES FROM
£1199per person
Antigua
INCLUDED IN THE PRICE:
• Return flights from Heathrow to Miami
• 23 kg Luggage allowance per person
• 1 Night 4 hotel stay in Miami
• 14 Night full board Carnival Breeze cruise
from Miami
• Facilities and entrainment on board ship
The Carnival Breeze is the largest ship of the
fleet at 130,000 tonnes and has an impressive
range of facilities to suit all ages. Carnival
seem to have struck an ideal balance between
an adult party atmosphere and fun
for all the family with their fun
ship upgrades. The Lanai
Promenade deck brings the
indoors - outdoors with the
C-side BBQ, Red Frog
Pub and hot tubs. Enjoy
some tranquility at the
adult-only Serenity top
deck sunbathing area
with two hot tubs. While
kids can get active at the
Sport Square Complex with
the amazing "Sky-Course"
ropes and in the aqua park with
amazing waterslides. There are two
main pool areas with a poolside Blue Iguana
Cantina, Blue Iguana Tequila bar and Red
Frog Rum Bar for a true Caribbean vibe. In
the evening have a laugh in the Comedy Club
or be brave at Superstar Karaoke. A lovely
alternative to the norm are the laser shows and
the huge movie screen under the stars. The
excellent Cloud 9 Spa features a fitness centre,
salon, treatment rooms, various steams rooms,
sauna and a bubbling hydrotherapy pool.
ITINERARY: Fly from Heathrow to Miami
and stay for one night in a four-star hotel
before joining Carnival Breeze on a fourteen
night Caribbean cruise combining two of
the following itineraries before flying home
overnight:
West: Miami - Ocho Rios
(Jamaica) - Grand Cayman -
Cozumel (Mexico) - Miami.
West II: Miami - Key West -
Grand Cayman - Cozumel
(Mexico) - Miami.
East : Miami - St Thomas -
Antigua - San Juan (Puerto
Rico) - Nassau (Bahamas)
- Miami.
East II: Miami - St Maarten
- St Kitts - San Juan (Puerto Rico)
- Grand Turk - Miami.
South: Miami - Grand Turk - La Romana (Dom
Rep) - Curacao - Aruba - Miami.
San Juan
Date Itin Interior Balcony
01 Nov 14 West+East £1269 £1469
15 Nov 14 West II+South £1329 £1559
29 Nov 14 West+East £1199 £1389
27 Dec 14 West+East £1449 £1779
10 Jan 15 West+East £1299 £1599
24 Jan 15 West+East £1299 £1629
07 Feb 15 West +South £1359 £1679
21 Feb 15 West+East £1349 £1659
07 Mar 15 West+East £1419 £1759
21 Mar 15 West +South £1529 £1879
18 Apr 15 West+East £1429 £1769
02 May 15 West +South £1469 £1819
16 May 15 West+East II £1499 £1789
Aruba