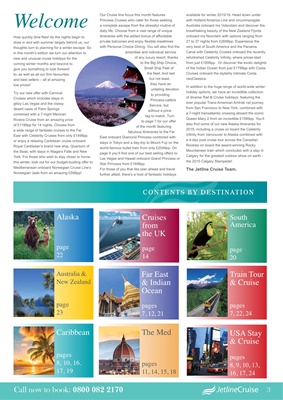 3 to book visit: www.jetlinecruise.com or call: 0800 082 2170
3 to book visit: www.jetlinecruise.com or call: 0800 082 2170
Call now to book: 0800 082 2170 3
CONTENTS BY DESTINATION
WelcomeHow quickly time flies! As the nights begin to
draw in and with summer largely behind us, our
thoughts turn to planning for a winter escape. So
in this month's edition we turn our attention to
new and unusual cruise holidays for the
coming winter months and beyond to
give you something to look forward
to, as well as all our firm favourites
and best sellers - all at amazing
low prices!
Try our new offer with Carnival
Cruises which includes stays in
glitzy Las Vegas and the classy
desert oasis of Palm Springs
combined with a 7-night Mexican
Riviera Cruise from an amazing price
of £1199pp for 14 nights. Choose from
a wide range of fantastic cruises to the Far
East with Celebrity Cruises from only £1499pp
or enjoy a relaxing Caribbean cruise onboard
Royal Caribbean's brand new ship, Quantum of
the Seas, with stays in Niagara Falls and New
York. For those who wish to stay closer to home
this winter, look out for our budget-busting offer to
Mediterranean onboard Norwegian Cruise Line's
Norwegian Jade from an amazing £599pp!
Our Cruise line focus this month features
Princess Cruises who cater for those seeking
a complete escape from the stressful routine of
daily life. Choose from a vast range of unique
itineraries with the added bonus of affordable
private balconies and enjoy flexible mealtimes
with Personal Choice Dining. You will also find the
amenities and individual service
of any luxury resort, thanks
to the Big Ship Choice,
Small Ship Feel of
the fleet. And last
but not least,
they have an
unfailing devotion
to providing
Princess-calibre
Service, but
without a price
tag to match. Turn
to page 7 for our offer
of the month featuring
fabulous itineraries to the Far
East onboard Diamond Princess combined with
stays in Tokyo and a day-trip to Mount Fuji on the
world-famous bullet train from only £2049pp. On
page 9 you'll find one of our best selling offers to
Las Vegas and Hawaii onboard Grand Princess or
Star Princess from £1699pp.
For those of you that like plan ahead and travel
further afield, there's a host of fantastic holidays
available for winter 2015/16. Head down under
with Holland America Line and circumnavigate
Australia onboard ms Volendam and discover the
breathtaking beauty of the New Zealand Fjords
onboard ms Noordam with options ranging from
21 to 37 nights from £2699pp. Experience the
very best of South America and the Panama
Canal with Celebrity Cruises onboard the recently
refurbished Celebrity Infinity, where prices start
from just £1899pp. Or discover the exotic delights
of the Indian Ocean from just £1799pp with Costa
Cruises onboard the stylishly intimate Costa
neoClassica.
In addition to the huge range of world-wide winter
holiday options, we have an incredible collection
of diverse Rail & Cruise holidays; featuring the
ever popular Trans-American Amtrak rail journey
from San Francisco to New York, combined with
a 7-night transatlantic crossing aboard the iconic
Queen Mary 2 from an incredible £1599pp. You'll
also find some of our new Alaska itineraries for
2015, including a cruise on board the Celebrity
Infinity from Vancouver to Alaska combined with
a 4-day post cruise tour across the Canadian
Rockies on board the award-winning Rocky
Mountaineer train which concludes with a stay in
Calgary for the greatest outdoor show on earth -
the 2015 Calgary Stampede!
The Jetline Cruise Team.
CONTENTS BY DESTINATION
Cruises
from
the UK
page
14
The Med
pages
11, 14, 15, 18
South
America
page
20
Train Tour
& Cruise
pages
7, 22, 24
Caribbean
pages
8, 10, 16.
17, 19
Far East
& Indian
Ocean
pages
7, 12, 21
Alaska
page
22
Australia &
New Zealand
page
23
USA Stay
& Cruise
pages
8, 9, 10, 13,
16, 17, 24