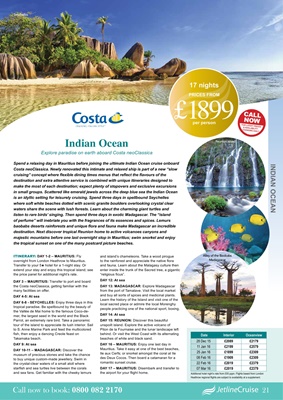 INDIAN OCEAN
Seychelles
17 nights
PRICES FROM
£1899per person
Call now to book: 0800 082 2170 21
Spend a relaxing day in Mauritius before joining the ultimate Indian Ocean cruise onboard
Costa neoClassica. Newly renovated this intimate and relaxed ship is part of a new "slow
cruising" concept where flexible dining times menus that reflect the flavours of the
destination and extra attentive service is combined with unique itineraries designed to
make the most of each destination; expect plenty of stopovers and exclusive excursions
in small groups. Scattered like emerald jewels across the deep blue sea the Indian Ocean
is an idyllic setting for leisurely cruising. Spend three days in spellbound Seychelles
where soft white beaches dotted with scenic granite boulders overlooking crystal clear
waters share the scene with lush forests. Learn about the charming giant turtles and
listen to rare birds' singing. Then spend three days in exotic Madagascar. The "island
of perfume" will inebriate you with the fragrances of its essences and spices. Lemurs
baobabs deserts rainforests and unique flora and fauna make Madagascar an incredible
destination. Next discover tropical Reunion home to active volcanoes canyons and
majestic mountains before one last overnight stop in Mauritius; swim snorkel and enjoy
the tropical sunset on one of the many postcard picture beaches.
Indian Ocean
Explore paradise on earth aboard Costa neoClassica
ITINERARY: DAY 1-2 - MAURITIUS: Fly
overnight from London Heathrow to Mauritius.
Transfer to your 5 hotel for a 1-night stay. Or
extend your stay and enjoy this tropical island; see
the price panel for additional night's rate.
DAY 3 - MAURITIUS: Transfer to port and board
the Costa neoClassica, getting familiar with the
many facilities on offer.
DAY 4-5: At sea
DAY 6-8 - SEYCHELLES: Enjoy three days in this
tropical paradise. Be spellbound by the beauty of
the Vallée de Mai home to the famous Coco-demer,
the largest seed in the world and the Black
Parrot, an extremely rare bird. Take a panoramic
tour of the island to appreciate its lush interior. Sail
to S. Anne Marine Park and feed the multicolored
fish, then enjoy a dancing Creole feast on
Takamaka beach.
DAY 9: At sea
DAY 10-11 - MADAGASCAR: Discover the
museum of precious stones and take the chance
to buy unique custom-made jewellery. Swim in
the crystal-clear waters of a small atoll where
starfish and sea turtles live between the corals
and sea fans. Get familiar with the cheeky lemurs
and island's chameleons. Take a wood pirogue
to the rainforest and appreciate the native flora
and fauna. Learn about the Malagasy culture then
enter inside the trunk of the Sacred tree, a gigantic
"religious ficus".
DAY 12: At sea
DAY 13: MADAGASCAR: Explore Madagascar
from the port of Tamatave. Visit the local market
and buy all sorts of spices and medicinal plants.
Learn the history of the Island and visit one of the
local sacred place or admire the local Morenghy
people practicing one of the national sport, boxing.
DAY 14: At sea
DAY 15: REUNION: Discover this beautiful
unspoilt island. Explore the active volcano of
Piton de la Fournaise and the lunar landscape left
behind. Or visit the West Coast with its alternating
beaches of white and black sand.
DAY 16 - MAURITIUS: Enjoy one last day in
Mauritius. Take it easy at one of the best beaches,
Ile aux Cerfs; or snorkel amongst the coral at Ile
des Deux Cocos. Then board a catamaran for a
romantic sunset cruise.
DAY 17 - MAURITIUS: Disembark and transfer to
the airport for your flight home.
Date Interior Oceanview
28 Dec 15 £2089 £2179
11 Jan 16 £2199 £2579
25 Jan 16 £1899 £2309
08 Feb 16 £1909 £2309
22 Feb 16 £2019 £2379
07 Mar 16 £2019 £2379
Additional hotel night's rate from £55 pppn. Flights based from London
Heathrow regional flights are subject to availability at a supplement.
Alley of the Baobabs
Madagascar
Reunion Island