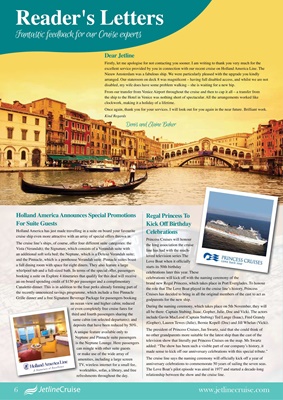 Dear Jetline
Firstly, let me apologise for not contacting you sooner. I am writing to thank you very much for the
excellent service provided by you in connection with our recent cruise on Holland America Line. The
Nieuw Amsterdam was a fabulous ship. We were particularly pleased with the upgrade you kindly
arranged. Our stateroom on deck 8 was magnificent - having full disabled access, and whilst we are not
disabled, my wife does have some problem walking - she is waiting for a new hip.
From our transfer from Venice Airport throughout the cruise and then to cap it all - a transfer from
the ship to the Hotel in Venice was nothing short of spectacular. All the arrangements worked like
clockwork, making it a holiday of a lifetime.
Once again, thank you for your services. I will look out for you again in the near future. Brilliant work.
Kind Regards
Denis and Elaine Baker
Reader's Letters
Fantastic feedback for our Cruise experts
Holland America Announces Special Promotions
For Suite Guests
Holland America has just made travelling in a suite on board your favourite
cruise ship even more attractive with an array of special offers thrown in.
The cruise line's ships, of course, offer four different suite categories: the
Vista (Verandah); the Signature, which consists of a Verandah suite with
an additional soft sofa bed; the Neptune, which is a Deluxe Verandah suite;
and the Pinnacle, which is a penthouse Verandah suite. Pinnacle suites boast
a full dining room with space for eight diners. They also feature a large
whirlpool tub and a full-sized bath. In terms of the special offer, passengers
booking a suite on Explore 4 itineraries that qualify for this deal will receive
an on-board spending credit of $150 per passenger and a complimentary
Canaletto dinner. This is in addition to the four perks already forming part of
the recently-announced savings programme, which include a free Pinnacle
Grille dinner and a free Signature Beverage Package for passengers booking
an ocean view and higher cabin; reduced
or even completely free cruise fares for
third and fourth passengers sharing the
same cabin (on selected departures); and
deposits that have been reduced by 50%.
A unique feature available only to
Neptune and Pinnacle suite passengers
is the Neptune Lounge. Here passengers
can mingle with other suite guests
or make use of the wide array of
amenities, including a large screen
TV, wireless internet for a small fee,
worktables, sofas, a library, and free
refreshments throughout the day.
Regal Princess To
Kick Off Birthday
Celebrations
Princess Cruises will honour
the long association the cruise
line has had with the muchloved television series The
Love Boat when it officially
starts its 50th birthday
celebrations later this year. These
celebrations will kick off with the naming ceremony of the
brand new Regal Princess, which takes place in Port Everglades. To honour
the role that The Love Boat played in the cruise line's history, Princess
Cruises has decided to bring in all the original members of the cast to act as
godparents for the new ship.
During the naming ceremony, which takes place on 5th November, they will
all be there: Captain Stubing, Isaac, Gopher, Julie, Doc and Vicki. The actors
include Gavin MacLeod (Captain Stubing) Ted Lange (Isaac), Fred Grandy
(Gopher), Lauren Tewes (Julie), Bernie Kopell (Doc) and Jill Whelan (Vicki).
The president of Princess Cruises, Jan Swartz, said that she could think of
no other grandparents more suitable for the latest ship than the cast of the
television show that literally put Princess Cruises on the map. Ms Swartz
added: "The show has been such a visible part of our company's history, it
made sense to kick off our anniversary celebrations with this special tribute."
The cruise line says the naming ceremony will officially kick off a year of
anniversary celebrations to commemorate 50 years of sailing the seven seas.
The Love Boat's pilot episode was aired in 1977 and started a decade-long
relationship between the show and the cruise line.