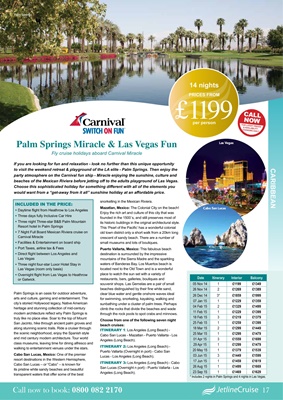 CARIBBEAN
Palm Springs Miracle & Las Vegas Fun
Fly cruise holidays aboard Carnival Miracle
Palm Springs
14 nights
PRICES FROM
£1199per person Las Vegas
If you are looking for fun and relaxation - look no further than this unique opportunity
to visit the weekend retreat & playground of the LA elite - Palm Springs. Then enjoy the
party atmosphere on the Carnival fun ship - Miracle enjoying the sunshine, culture and
beaches of the Mexican Riviera before jetting off to the adults playground of Las Vegas.
Choose this sophisticated holiday for something different with all of the elements you
would want from a "get-away from it all" sunshine holiday at an affordable price.
Palm Springs is an oasis for outdoor adventure,
arts and culture, gaming and entertainment. The
city's storied Hollywood legacy, Native American
heritage and stunning collection of mid-century
modern architecture reflect why Palm Springs is
truly like no place else. Soar to the top of Mount
San Jacinto, hike through ancient palm groves and
along stunning scenic trails. Ride a cruiser through
the scenic neighborhood, enjoy the Spanish style
and mid century modern architecture. Tour world
class museums, leaving time for dining alfresco and
walking to entertainment venues under the stars.
Cabo San Lucas, Mexico: One of the premier
resort destinations in the Western Hemisphere,
Cabo San Lucas - or "Cabo" - is known for
its pristine white sandy beaches and beautiful
transparent waters that offer some of the best
snorkelling in the Mexican Riviera.
Mazatlan, Mexico: The Colonial City on the beach!
Enjoy the rich art and culture of this city that was
founded in the 1500´s, and still preserves most of
its historic buildings in the original architectural style.
This 'Pearl of the Pacific' has a wonderful colonial
old town district only a short walk from a 20km long
crescent of sandy beach. There are a number of
small museums and lots of boutiques.
Puerto Vallarta, Mexico: This fabulous beach
destination is surrounded by the impressive
mountains of the Sierra Madre and the sparkling
waters of Banderas Bay. Los Muertos beach is
located next to the Old Town and is a wonderful
place to watch the sun set with a variety of
restaurants, bars, galleries, boutiques and
souvenir shops. Las Gemelas are a pair of small
beaches distinguished by their fine white sand,
clear blue water and gentle onshore waves ideal
for swimming, snorkeling, kayaking, walking and
sunbathing under a cluster of palm trees. Perhaps
climb the rocks that divide the beaches and wade
through the rock pools to spot crabs and minnows.
Choose from one of the following seven night
beach cruises:
ITINERARY 1: Los Angeles (Long Beach) -
Cabo San Lucas - Mazatlan - Puerto Vallarta - Los
Angeles (Long Beach).
ITINERARY 2: Los Angeles (Long Beach) -
Puerto Vallarta (Overnight in port) - Cabo San
Lucas - Los Angeles (Long Beach).
ITINERARY 3: Los Angeles (Long Beach) - Cabo
San Lucas (Overnight n port) - Puerto Vallarta - Los
Angeles (Long Beach).
INCLUDED IN THE PRICE:
• Daytime flight from Heathrow to Los Angeles
• Three days fully Inclusive Car Hire
• Three night Three-star B&B Palm Mountain
Resort hotel In Palm Springs
• 7 Night Full Board Mexican Riviera cruise on
Carnival Miracle
• Facilities & Entertainment on board ship
• Port Taxes, airline tax & Fees
• Direct flight between Los Angeles and
Las Vegas
• Three night four-star Luxor Hotel Stay in
Las Vegas (room only basis)
• Overnight flight from Las Vegas to Heathrow
or Gatwick. Date Itinerary Interior Balcony
05 Nov 14 1 £1199 £1349
26 Nov 14 2 £1269 £1389
26 Dec 14 3* £1859 £1999
07 Jan 15 1 £1229 £1359
04 Feb 15 2 £1329 £1499
11 Feb 15 1 £1229 £1399
18 Feb 15 3 £1219 £1379
25 Feb 15 1 £1259 £1399
18 Mar 15 2 £1299 £1449
25 Mar 15 1 £1299 £1479
01 Apr 15 3 £1559 £1699
29 Apr 15 1 £1299 £1479
20 May 15 1 £1379 £1539
03 Jun 15 3 £1449 £1599
17 Jun 15 1 £1459 £1619
26 Aug 15 1 £1499 £1669
23 Sep 15 1 £1469 £1629
* Includes 2 nights in Palm Springs and 4 nights in Las Vegas.
Cabo San Lucas
Call now to book: 0800 082 2170 17