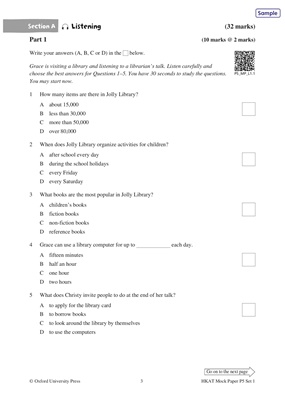 © Oxford University Press 3 HKAT Mock Paper P5 Set 1
Go on to the next page
(32 marks)
Part 1 (10 marks @ 2 marks)
Write your answers (A, B, C or D) in the below.
Grace is visiting a library and listening to a librarian's talk. Listen carefully and
choose the best answers for Questions 1-5. You have 30 seconds to study the questions.
You may start now.
1 How many items are there in Jolly Library?
A about 15,000
B less than 30,000
C more than 50,000
D over 80,000
2 When does Jolly Library organize activities for children?
A after school every day
B during the school holidays
C every Friday
D every Saturday
3 What books are the most popular in Jolly Library?
A children's books
B fiction books
C non-fiction books
D reference books
4 Grace can use a library computer for up to each day.
A fifteen minutes
B half an hour
C one hour
D two hours
5 What does Christy invite people to do at the end of her talk?
A to apply for the library card
B to borrow books
C to look around the library by themselves
D to use the computers
Section A Listening
P5_MP_L1.1 Sample