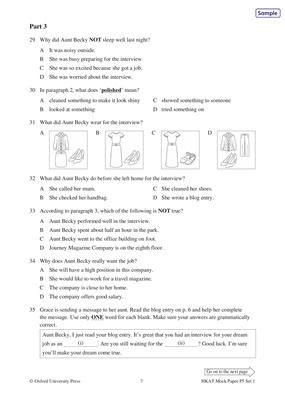 © Oxford University Press 7 HKAT Mock Paper P5 Set 1
Go on to the next page
Part 3
29 Why did Aunt Becky NOT sleep well last night?
A It was noisy outside.
B She was busy preparing for the interview.
C She was so excited because she got a job.
D She was worried about the interview.
30 In paragraph 2, what does 'polished' mean?
A cleaned something to make it look shiny C showed something to someone
B looked at something D tried something on
31 What did Aunt Becky wear for the interview?
A B C D
32 What did Aunt Becky do before she left home for the interview?
A She called her mum. C She cleaned her shoes.
B She checked her handbag. D She wrote a blog entry.
33 According to paragraph 3, which of the following is NOT true?
A Aunt Becky performed well in the interview.
B Aunt Becky spent about half an hour in the park.
C Aunt Becky went to the office building on foot.
D Journey Magazine Company is on the eighth floor.
34 Why does Aunt Becky really want the job?
A She will have a high position in this company.
B She would like to work for a travel magazine.
C The company is close to her home.
D The company offers good salary.
35 Grace is sending a message to her aunt. Read the blog entry on p. 6 and help her complete
Aunt Becky, I just read your blog entry. It's great that you had an interview for your dream
job as an (i) . Are you still waiting for the (ii) ? Good luck. I'm sure
you'll make your dream come true.
the message. Use only ONE word for each blank. Make sure your answers are grammatically
correct.
Sample