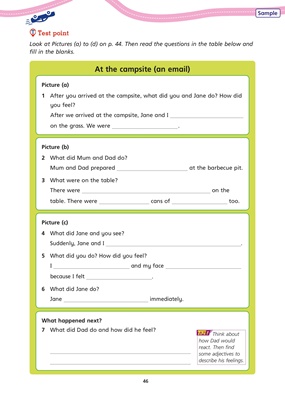 464646
T Test point
Look at Pictures (a) to (d) on p. 44. Then read the questions in the table below and
fill in the blanks.
At the campsite (an email)
Picture (a)
1 After you arrived at the campsite, what did you and Jane do? How did
you feel?
After we arrived at the campsite, Jane and I
on the grass. We were .
Picture (b)
2 What did Mum and Dad do?
Mum and Dad prepared at the barbecue pit.
3 What were on the table?
There were on the
table. There were cans of too.
Picture (c)
4 What did Jane and you see?
Suddenly, Jane and I .
5 What did you do? How did you feel?
and my face
I
because I felt .
6 What did Jane do?
Jane immediately.
What happened next?
7 What did Dad do and how did he feel?
Think about
how Dad would
react. Then find
some adjectives to
describe his feelings.
Sample