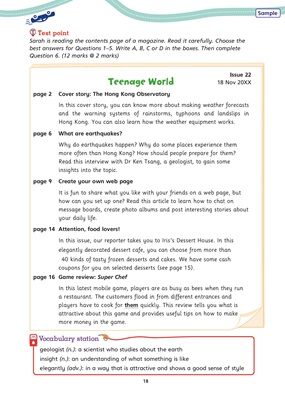 181818
T Test point
Sarah is reading the contents page of a magazine. Read it carefully. Choose the
best answers for Questions 1-5. Write A, B, C or D in the boxes. Then complete
Question 6. (12 marks @ 2 marks)
Teenage World
page 2 Cover story: The Hong Kong Observatory
page 6 What are earthquakes?
Why do earthquakes happen? Why do some places experience them
more often than Hong Kong? How should people prepare for them?
Read this interview with Dr Ken Tsang, a geologist, to gain some
insights into the topic.
page 9 Create your own web page
It is fun to share what you like with your friends on a web page, but
how can you set up one? Read this article to learn how to chat on
message boards, create photo albums and post interesting stories about
your daily life.
page 14 Attention, food lovers!
page 16 Game review: Super Chef
In this latest mobile game, players are as busy as bees when they run
a restaurant. The customers flood in from different entrances and
players have to cook for them quickly. This review tells you what is
attractive about this game and provides useful tips on how to make
more money in the game.
In this cover story, you can know more about making weather forecasts
and the warning systems of rainstorms, typhoons and landslips in
Hong Kong. You can also learn how the weather equipment works.
In this issue, our reporter takes you to Iris's Dessert House. In this
elegantly decorated dessert cafe, you can choose from more than
40 kinds of tasty frozen desserts and cakes. We have some cash
coupons for you on selected desserts (see page 15).
Vocabulary station
geologist (n.): a scientist who studies about the earth
insight (n.): an understanding of what something is like
elegantly (adv.): in a way that is attractive and shows a good sense of style
Issue 22
18 Nov 20XX
Sample