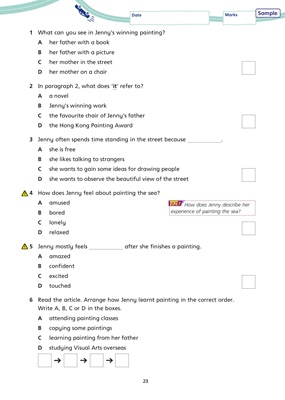 Marks
Date 232323
1 What can you see in Jenny's winning painting?
A her father with a book
B her father with a picture
C her mother in the street
D her mother on a chair
2 In paragraph 2, what does 'it' refer to?
A a novel
B Jenny's winning work
C the favourite chair of Jenny's father
D the Hong Kong Painting Award
3 Jenny often spends time standing in the street because .
A she is free
B she likes talking to strangers
C she wants to gain some ideas for drawing people
D she wants to observe the beautiful view of the street
4 How does Jenny feel about painting the sea?
A amused
B bored
C lonely
D relaxed
5 Jenny mostly feels after she finishes a painting.
A amazed
B confident
C excited
D touched
6 Read the article. Arrange how Jenny learnt painting in the correct order.
A attending painting classes
B copying some paintings
C learning painting from her father
D studying Visual Arts overseas
Write A, B, C or D in the boxes.
How does Jenny describe her
experience of painting the sea?
Sample