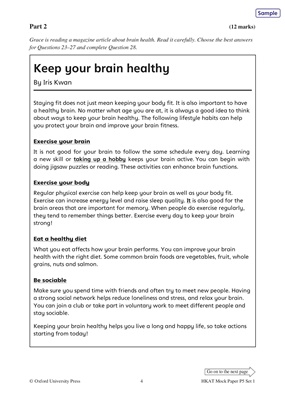 © Oxford University Press 4 HKAT Mock Paper P5 Set 1
Go on to the next page
Part 2 (12 marks)
Grace is reading a magazine article about brain health. Read it carefully. Choose the best answers
for Questions 23-27 and complete Question 28.
Keep your brain healthy
By Iris Kwan
Exercise your body
Regular physical exercise can help keep your brain as well as your body fit.
Exercise can increase energy level and raise sleep quality. It is also good for the
brain areas that are important for memory. When people do exercise regularly,
they tend to remember things better. Exercise every day to keep your brain
strong!
Eat a healthy diet
What you eat affects how your brain performs. You can improve your brain
health with the right diet. Some common brain foods are vegetables, fruit, whole
grains, nuts and salmon.
Be sociable
Make sure you spend time with friends and often try to meet new people. Having
a strong social network helps reduce loneliness and stress, and relax your brain.
You can join a club or take part in voluntary work to meet different people and
stay sociable.
Keeping your brain healthy helps you live a long and happy life, so take actions
starting from today!
Staying fit does not just mean keeping your body fit. It is also important to have
a healthy brain. No matter what age you are at, it is always a good idea to think
about ways to keep your brain healthy. The following lifestyle habits can help
you protect your brain and improve your brain fitness.
Exercise your brain
It is not good for your brain to follow the same schedule every day. Learning
a new skill or taking up a hobby keeps your brain active.
You can begin with
doing jigsaw puzzles or reading. These activities can enhance brain functions.
Sample