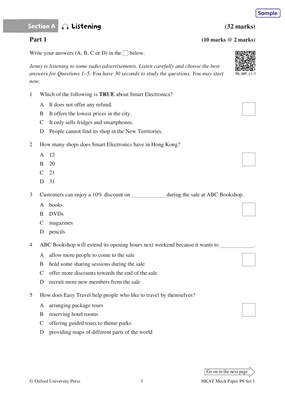 © Oxford University Press 3 HKAT Mock Paper P6 Set 1
Go on to the next page
(32 marks)
Part 1 (10 marks @ 2 marks)
Write your answers (A, B, C or D) in the below.
Jenny is listening to some radio advertisements. Listen carefully and choose the best
answers for Questions 1-5. You have 30 seconds to study the questions. You may start
now.
1 Which of the following is TRUE about Smart Electronics?
A It does not offer any refund.
B It offers the lowest prices in the city.
C It only sells fridges and smartphones.
D People cannot find its shop in the New Territories.
2 How many shops does Smart Electronics have in Hong Kong?
A 12
B 20
C 21
D 31
3 Customers can enjoy a 10% discount on during the sale at ABC Bookshop.
A books
B DVDs
C magazines
D pencils
4 ABC Bookshop will extend its opening hours next weekend because it wants to .
A allow more people to come to the sale
B hold some sharing sessions during the sale
C offer more discounts towards the end of the sale
D recruit more new members from the sale
5 How does Easy Travel help people who like to travel by themselves?
A arranging package tours
B reserving hotel rooms
C offering guided tours to theme parks
D providing maps of different parts of the world
Section A Listening
P6_MP_L1.1 Sample