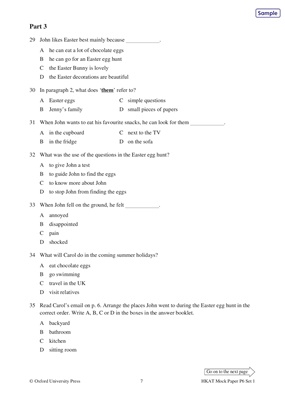 © Oxford University Press 7 HKAT Mock Paper P6 Set 1
Go on to the next page
Part 3
29 John likes Easter best mainly because .
A he can eat a lot of chocolate eggs
B he can go for an Easter egg hunt
C the Easter Bunny is lovely
D the Easter decorations are beautiful
30 In paragraph 2, what does 'them' refer to?
A Easter eggs C simple questions
B Jenny's family D small pieces of papers
31 When John wants to eat his favourite snacks, he can look for them .
A in the cupboard C next to the TV
B in the fridge D on the sofa
32 What was the use of the questions in the Easter egg hunt?
A to give John a test
B to guide John to find the eggs
C to know more about John
D to stop John from finding the eggs
33 When John fell on the ground, he felt .
A annoyed
B disappointed
C pain
D shocked
34 What will Carol do in the coming summer holidays?
A eat chocolate eggs
B go swimming
C travel in the UK
D visit relatives
35 Read Carol's email on p. 6. Arrange the places John went to during the Easter egg hunt in the
A backyard
B bathroom
C kitchen
D sitting room
correct order. Write A, B, C or D in the boxes in the answer booklet.
Sample