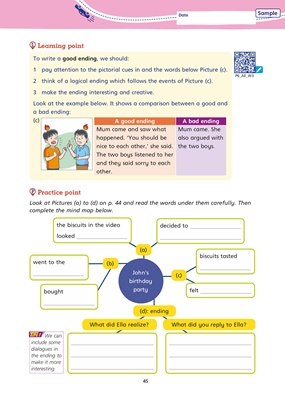 4545
Date
L Learning point
To write a good ending, we should:
1 pay attention to the pictorial cues in and the words below Picture (c).
2 think of a logical ending which follows the events of Picture (c).
3 make the ending interesting and creative.
Look at the example below. It shows a comparison between a good and
a bad ending:
A good ending A bad ending
Mum came and saw what
happened. 'You should be
nice to each other,' she said.
The two boys listened to her
and they said sorry to each
other.
Mum came. She
also argued with
the two boys.
(c)
P Practice point
Look at Pictures (a) to (d) on p. 44 and read the words under them carefully. Then
complete the mind map below.
(b)
(a)
bought
went to the
biscuits tasted
decided to
felt
the biscuits in the video
looked
(c)
(d): ending
What did Ella realize? What did you reply to Ella?
John's
birthday
party
We can
include some
dialogues in
the ending to
make it more
interesting.
P6_AE_W3 Sample