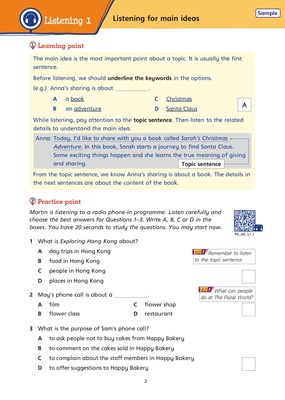 2
L Learning point
The main idea is the most important point about a topic. It is usually the first
sentence.
Before listening, we should underline the keywords in the options.
(e.g.) Anna's sharing is about .
A a book C Christmas
B an adventure D Santa Claus A
While listening, pay attention to the topic sentence. Then listen to the related
details to understand the main idea.
Anna: Today, I'd like to share with you a book called Sarah's Christmas
Adventure. In this book, Sarah starts a journey to find Santa Claus.
Some exciting things happen and she learns the true meaning of giving
and sharing.
From the topic sentence, we know Anna's sharing is about a book. The details in
the next sentences are about the content of the book. Topic sentence
P Practice point
Martin is listening to a radio phone-in programme. Listen carefully and
choose the best answers for Questions 1-3. Write A, B, C or D in the
boxes. You have 20 seconds to study the questions. You may start now.
1 What is Exploring Hong Kong about?
A day trips in Hong Kong
B food in Hong Kong
C people in Hong Kong
D places in Hong Kong
2 May's phone call is about a .
A film C flower shop
B flower class D restaurant
3 What is the purpose of Sam's phone call?
A to ask people not to buy cakes from Happy Bakery
B to comment on the cakes sold in Happy Bakery
C to complain about the staff members in Happy Bakery
D to offer suggestions to Happy Bakery
P6_AE_L1.1
Remember to listen
to the topic sentence.
What can people
do at The Floral World?
Listening 1 Listening for main ideas
Sample