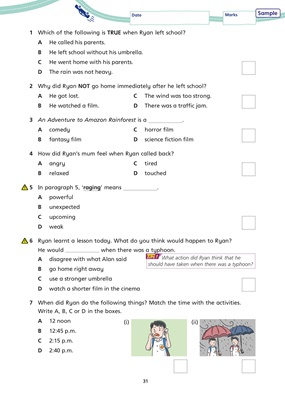 Marks
Date 313131
1 Which of the following is TRUE when Ryan left school?
A He called his parents.
B He left school without his umbrella.
C He went home with his parents.
D The rain was not heavy.
2 Why did Ryan NOT go home immediately after he left school?
A He got lost. C The wind was too strong.
B He watched a film. D There was a traffic jam.
3 An Adventure to Amazon Rainforest is a .
A comedy C horror film
B fantasy film D science fiction film
4 How did Ryan's mum feel when Ryan called back?
A angry C tired
B relaxed D touched
5 In paragraph 5, 'raging' means .
A powerful
B unexpected
C upcoming
D weak
6 Ryan learnt a lesson today. What do you think would happen to Ryan?
A disagree with what Alan said
B go home right away
C use a stronger umbrella
D watch a shorter film in the cinema
7 When did Ryan do the following things? Match the time with the activities.
Write A, B, C or D in the boxes.
A 12 noon
B 12:45 p.m.
C 2:15 p.m.
D 2:40 p.m.
He would when there was a typhoon.
What action did Ryan think that he
should have taken when there was a typhoon?
(i) (ii)
Sample