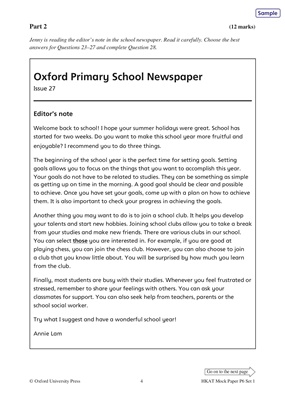 © Oxford University Press 4 HKAT Mock Paper P6 Set 1
Go on to the next page
Part 2 (12 marks)
Jenny is reading the editor's note in the school newspaper. Read it carefully. Choose the best
answers for Questions 23-27 and complete Question 28.
Oxford Primary School Newspaper
Issue 27
Editor's note
as getting up on time in the morning. A good goal should be clear and possible
to achieve. Once you have set your goals, come up with a plan on how to achieve
them. It is also important to check your progress in achieving the goals.
Another thing you may want to do is to join a school club. It helps you develop
your talents and start new hobbies. Joining school clubs allow you to take a break
from your studies and make new friends. There are various clubs in our school.
You can select those you are interested in. For example, if you are good at
playing chess, you can join the chess club. However, you can also choose to join
a club that you know little about. You will be surprised by how much you learn
from the club.
Finally, most students are busy with their studies. Whenever you feel frustrated or
stressed, remember to share your feelings with others. You can ask your
classmates for support. You can also seek help from teachers, parents or the
school social worker.
Try what I suggest and have a wonderful school year!
Annie Lam
Welcome back to school! I hope your summer holidays were great. School has
started for two weeks. Do you want to make this school year more fruitful and
enjoyable? I recommend you to do three things.
The beginning of the school year is the perfect time for setting goals. Setting
goals allows you to focus on the things that you want to accomplish this year.
Your goals do not have to be related to studies. They can be something as simple
Sample