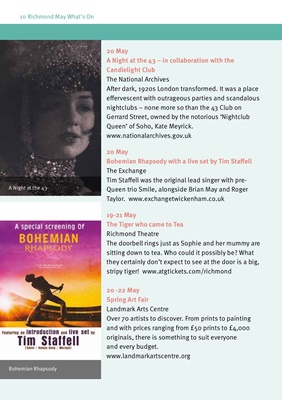 Richmond May What's On
10
20 May
A Night at the 43 - in collaboration with the
Candlelight Club
The National Archives
After dark, 1920s London transformed. It was a place
effervescent with outrageous parties and scandalous
nightclubs - none more so than the 43 Club on
Gerrard Street, owned by the notorious 'Nightclub
Queen' of Soho, Kate Meyrick.
20 May
Bohemian Rhapsody with a live set by Tim Staffell
The Exchange
Tim Staffell was the original lead singer with preQueen trio
Smile, alongside Brian May and Roger
Taylor. www.exchangetwickenham.co.uk
19-21 May
The Tiger who came to Tea
Richmond Theatre
The doorbell rings just as Sophie and her mummy are
sitting down to tea. Who could it possibly be? What
they certainly don't expect to see at the door is a big,
stripy tiger! www.atgtickets.com/richmond
20 -22 May
Spring Art Fair
Landmark Arts Centre
Over 70 artists to discover. From prints to painting
and with prices ranging from £50 prints to £4,000
originals, there is something to suit everyone
and every budget.
Bohemian Rhapsody
A Night at the 43