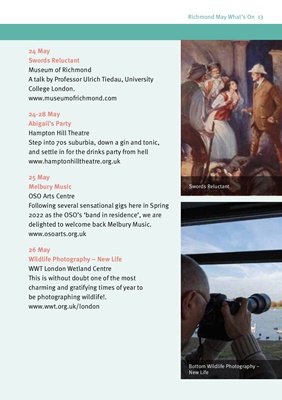 Richmond May What's On 13
24 May
Swords Reluctant
Museum of Richmond
A talk by Professor Ulrich Tiedau, University
College London.
24-28 May
Abigail's Party
Hampton Hill Theatre
Step into 70s suburbia, down a gin and tonic,
and settle in for the drinks party from hell
25 May
Melbury Music
OSO Arts Centre
Following several sensational gigs here in Spring
2022 as the OSO's 'band in residence', we are
delighted to welcome back Melbury Music.
26 May
Wildlife Photography - New Life
WWT London Wetland Centre
This is without doubt one of the most
charming and gratifying times of year to
be photographing wildlife!.
Swords Reluctant
Bottom Wildlife Photography -
New Life