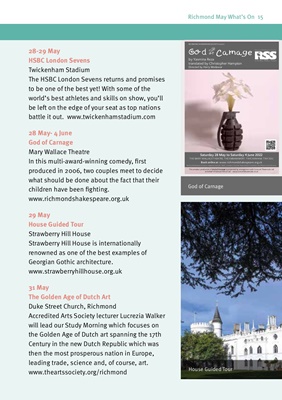 Richmond May What's On 15
by Yasmina Reza
translated by Christopher Hampton
Directed by Harry Medawar
Saturday 28 May to Saturday 4 June 2022
THE MARY WALLACE THEATRE, THE EMBANKMENT, TWICKENHAM, TW1 3DU
RICHMOND SHAKESPEARE SOCIETY PRESENTS
Book online at: www.richmondshakespeare.org.uk
Richmond Shakespeare Society is a registered charity No. 276271, a member of the Little Theatre Guild of Great Britain and affiliated to Arts Richmond.
This amateur production of God of Carnage is presented by arrangement with Concord Theatricals Ltd
on behalf of Samuel French Ltd - www.concordtheatricals.co.uk
28-29 May
HSBC London Sevens
Twickenham Stadium
The HSBC London Sevens returns and promises
to be one of the best yet! With some of the
world's best athletes and skills on show, you'll
be left on the edge of your seat as top nations
battle it out. www.twickenhamstadium.com
28 May- 4 June
God of Carnage
Mary Wallace Theatre
In this multi-award-winning comedy, first
produced in 2006, two couples meet to decide
what should be done about the fact that their
children have been fighting.
www.richmondshakespeare.org.uk
29 May
House Guided Tour
Strawberry Hill House
Strawberry Hill House is internationally
renowned as one of the best examples of
Georgian Gothic architecture.
www.strawberryhillhouse.org.uk
31 May
The Golden Age of Dutch Art
Duke Street Church, Richmond
Accredited Arts Society lecturer Lucrezia Walker
will lead our Study Morning which focuses on
the Golden Age of Dutch art spanning the 17th
Century in the new Dutch Republic which was
then the most prosperous nation in Europe,
leading trade, science and, of course, art.
www.theartssociety.org/richmond
God of Carnage
House Guided Tour