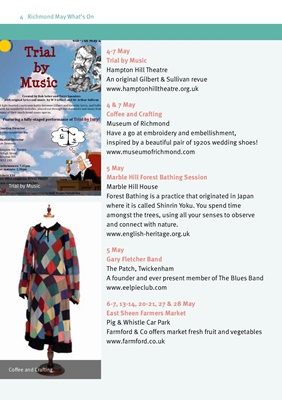 Richmond May What's On
Trial
by
Music
A light-hearted courtroom battle between Gilbert and his witty lyrics, and Sullivan
with his wonderful melodies, played out through the characters and music from
many of their much-loved comic operas.
Featuring a fully-staged performance of Trial by Jury!
reative Director
Musical Director
ee Dewsnap
ww.ticketsource.co.uk/hlo
ampton Hill Theatre
0 High Street
ampton Hill
W12 1NZ
ickets: £16
ox Office enquiries: 07942 365157
4th-7th May 2022
Created by Bob Salter and Terry Saunders
with original lyrics and music by W S Gilbert and Sir Arthur Sullivan
G
S
We are pleased to be supporting the Ruth Strauss Foundation
erformances: 7.45pm
at matinée: 2.30pm
Wesley Henderson Roe
4
4-7 May
Trial by Music
Hampton Hill Theatre
An original Gilbert & Sullivan revue
4 & 7 May
Coffee and Crafting
Museum of Richmond
Have a go at embroidery and embellishment,
inspired by a beautiful pair of 1920s wedding shoes!
5 May
Marble Hill Forest Bathing Session
Marble Hill House
Forest Bathing is a practice that originated in Japan
where it is called Shinrin Yoku. You spend time
amongst the trees, using all your senses to observe
and connect with nature.
5 May
Gary Fletcher Band
The Patch, Twickenham
A founder and ever present member of The Blues Band
6-7, 13-14, 20-21, 27 & 28 May
East Sheen Farmers Market
Pig & Whistle Car Park
Farmford & Co offers market fresh fruit and vegetables
Coffee and Crafting
Trial by Music