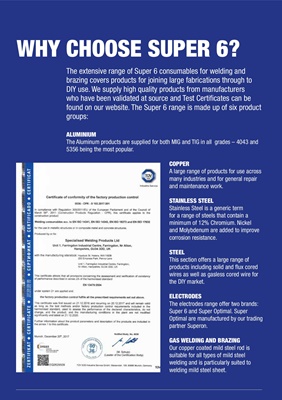 The extensive range of Super 6 consumables for welding and
brazing covers products for joining large fabrications through to
DIY use. We supply high quality products from manufacturers
who have been validated at source and Test Certificates can be
found on our website. The Super 6 range is made up of six product
groups:
ALUMINIUM
The Aluminum products are supplied for both MIG and TIG in all grades - 4043 and
5356 being the most popular.
COPPER
A large range of products for use across
many industries and for general repair
and maintenance work.
STAINLESS STEEL
Stainless Steel is a generic term
for a range of steels that contain a
minimum of 12% Chromium. Nickel
and Molybdenum are added to improve
corrosion resistance.
STEEL
This section offers a large range of
products including solid and flux cored
wires as well as gasless cored wire for
the DIY market.
ELECTRODES
The electrodes range offer two brands:
Super 6 and Super Optimal. Super
Optimal are manufactured by our trading
partner Superon.
GAS WELDING AND BRAZING
Our copper coated mild steel rod is
suitable for all types of mild steel
welding and is particularly suited to
welding mild steel sheet.
WHY CHOOSE SUPER 6?