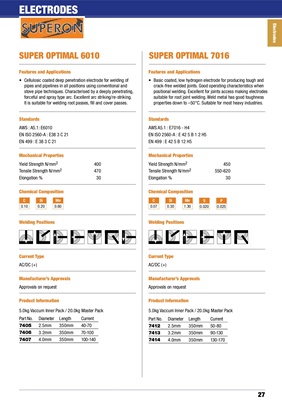 ELECTRODES
27 Electrodes
Welding Positions
Standards
Mechanical Properties
Si
0.20
Mn
0.60
C
0.10
AWS : A5.1: E6010
EN ISO 2560-A : E38 3 C 21
EN 499 : E 38 3 C 21
Yield Strength N/mm2 400
Tensile Strength N/mm2 470
Elongation % 30
Features and Applications
• Cellulosic coated deep penetration electrode for welding of
pipes and pipelines in all positions using conventional and
stove pipe techniques. Characterised by a deeply penetrating,
forceful and spray type arc. Excellent arc striking/re-striking.
It is suitable for welding root passes, fill and cover passes.
Current Type
AC/DC (+)
Chemical Composition
Product Information
5.0kg Vaccum Inner Pack / 20.0kg Master Pack
Approvals on request
Manufacturer's Approvals
SUPER OPTIMAL 6010
Part No. Diameter Length Current
7405 2.5mm 350mm 40-70
7406 3.2mm 350mm 70-100
7407 4.0mm 350mm 100-140
Welding Positions
Standards
Mechanical Properties
Si
0.30
Mn
1.30
C
0.07
AWS A5.1 : E7016 - H4
EN ISO 2560-A : E 42 5 B 1 2 H5
EN 499 : E 42 5 B 12 H5
Yield Strength N/mm2 450
Tensile Strength N/mm2 550-620
Elongation % 30
Features and Applications
• Basic coated, low hydrogen electrode for producing tough and
crack-free welded joints. Good operating characteristics when
positional welding. Excellent for joints access making electrodes
suitable for root joint welding. Weld metal has good toughness
properties down to -50°C. Suitable for most heavy industries.
Current Type
AC/DC (+)
Chemical Composition
Product Information
5.0kg Vaccum Inner Pack / 20.0kg Master Pack
Approvals on request
Manufacturer's Approvals
SUPER OPTIMAL 7016
Part No. Diameter Length Current
7412 2.5mm 350mm 50-80
7413 3.2mm 350mm 90-130
7414 4.0mm 350mm 130-170
S
0.020
P
0.025