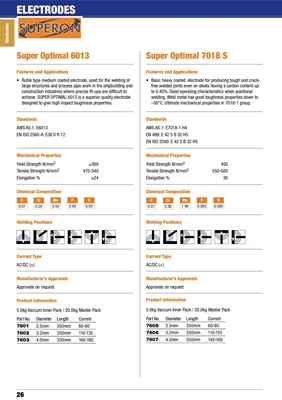 ELECTRODES
Welding Positions
Standards
Mechanical Properties
0.07
C
0.20
Si
0.50
Mn
0.03
P
AWS A5.1: E6013
EN ISO 2560-A: E38 0 R 12
Yield Strength N/mm2 ≥380
Tensile Strength N/mm2 470-540
Elongation % ≥24
Features and Applications
• Rutile type medium coated electrode, used for the welding of
large structures and process pipe work in the shipbuilding and
construction industries where precise fit-ups are difficult to
achieve. SUPER OPTIMAL 6013 is a superior quality electrode
designed to give high impact toughness properties.
Current Type
AC/DC (±)
Chemical Composition
Product Information
5.0kg Vaccum Inner Pack / 20.0kg Master Pack
Approvals on request
Manufacturer's Approvals
Super Optimal 6013
Part No. Diameter Length Current
7601 2.5mm 350mm 60-80
7602 3.2mm 350mm 110-135
7603 4.0mm 350mm 160-180
Welding Positions
Standards
Mechanical Properties
AWS A5.1: E7018-1 H4
EN 499: E 42 5 B 32 H5
EN ISO 2560: E 42 5 B 32 H5
Yield Strength N/mm2 450
Tensile Strength N/mm2 550-620
Elongation % 30
Features and Applications
• Basic heavy coated, electrode for producing tough and crack free
welded joints even on steels having a carbon content up
to 0.40%. Good operating characteristics when positional
welding. Weld metal has good toughness properties down to
-50°C. Ultimate mechanical properties in 7018-1 group.
Current Type
AC/DC (+)
Chemical Composition
Product Information
5.0kg Vaccum Inner Pack / 20.0kg Master Pack
Approvals on request
Manufacturer's Approvals
Super Optimal 7018 S
Part No. Diameter Length Current
7605 2.5mm 350mm 60-80
7606 3.2mm 350mm 110-135
7607 4.0mm 350mm 140-180
26
0.03
S
0.07
C
0.30
Si
1.40
Mn
0.025
P
0.020
S
Electrodes