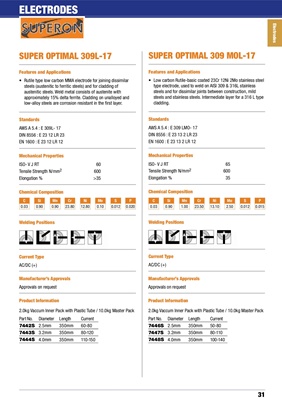 ELECTRODES
31 Electrodes
Welding Positions
Welding Positions
Standards
Mechanical Properties
AWS A 5.4 : E 309 LMO- 17
DIN 8556 : E 23 13 2 LR 23
EN 1600 : E 23 13 2 LR 12
ISO- V J RT 65
Tensile Strength N/mm2 600
Elongation % 35
Features and Applications
• Low carbon Rutile-basic coated 23Cr 12Ni 2Mo stainless steel
type electrode, used to weld on AISI 309 & 316L stainless
steels and for dissimilar joints between construction, mild
steels and stainless steels. Intermediate layer for a 316 L type
cladding.
Current Type
AC/DC (+)
Chemical Composition
Product Information
2.0kg Vaccum Inner Pack with Plastic Tube / 10.0kg Master Pack
Approvals on request
Manufacturer's Approvals
SUPER OPTIMAL 309 MOL-17
Standards
Mechanical Properties
AWS A 5.4 : E 309L- 17
DIN 8556 : E 23 12 LR 23
EN 1600 : E 23 12 LR 12
ISO- V J RT 60
Tensile Strength N/mm2 600
Elongation % >35
Features and Applications
• Rutile type low carbon MMA electrode for joining dissimilar
steels (austenitic to ferritic steels) and for cladding of
austenitic steels. Weld metal consists of austenite with
approximately 15% delta ferrite. Cladding on unalloyed and
low-alloy steels are corrosion resistant in the first layer.
Current Type
AC/DC (+)
Chemical Composition
Product Information
2.0kg Vaccum Inner Pack with Plastic Tube / 10.0kg Master Pack
Approvals on request
Manufacturer's Approvals
SUPER OPTIMAL 309L-17
Part No. Diameter Length Current
7442S 2.5mm 350mm 60-80
7443S 3.2mm 350mm 80-120
7444S 4.0mm 350mm 110-150
Part No. Diameter Length Current
7446S 2.5mm 350mm 50-80
7447S 3.2mm 350mm 80-110
7448S 4.0mm 350mm 100-140
Si
0.90
Mn
0.90
Cr
23.80
Ni
12.80
C
0.03
Mo
0.10
S
0.012
P
0.020
Si
0.90
Mn
1.00
Cr
23.50
Ni
13.10
C
0.03
Mo
2.50
S
0.012
P
0.015