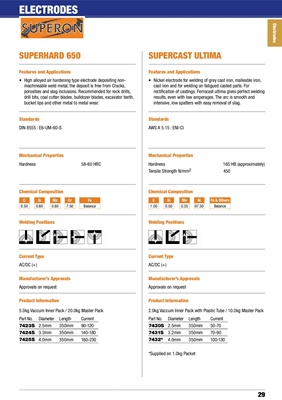 ELECTRODES
29 Electrodes
Fe & Others
Balance
Standards
Mechanical Properties
DIN 8555 : E6-UM-60-S
Hardness 58-60 HRC
Features and Applications
• High alloyed air hardening type electrode depositing non machineable
weld metal, the deposit is free from Cracks,
porosities and slag inclusions. Recommended for rock drills,
drill bits, coal cutter blades, bulldozer blades, excavator teeth,
bucket lips and other metal to metal wear.
Welding Positions
Current Type
AC/DC (+)
Chemical Composition
Product Information
5.0kg Vaccum Inner Pack / 20.0kg Master Pack
Approvals on request
Manufacturer's Approvals
SUPERHARD 650
Part No. Diameter Length Current
7423S 2.5mm 350mm 90-120
7424S 3.2mm 350mm 140-180
7425S 4.0mm 350mm 180-230
Standards
Mechanical Properties
AWS A 5.15 : ENI-CI
Hardness 165 HB (approximately)
Tensile Strength N/mm2 450
Features and Applications
• Nickel electrode for welding of grey cast iron, malleable iron,
cast iron and for welding on fatigued casted parts. For
rectification of castings. Ferrocast ultima gives perfect welding
results, even with low amperages. The arc is smooth and
intensive, low spatters with easy removal of slag.
Welding Positions
Current Type
AC/DC (+)
Chemical Composition
Product Information
2.0kg Vaccum Inner Pack with Plastic Tube / 10.0kg Master Pack
Approvals on request
Manufacturer's Approvals
SUPERCAST ULTIMA
Part No. Diameter Length Current
7430S 2.5mm 350mm 50-70
7431S 3.2mm 350mm 70-90
7432* 4.0mm 350mm 100-130
Si
0.60
Mn
0.60
Cr
7.50
C
0.50
Fe
Balance
Si
0.50
Mn
0.35
Ni
97.50
C
1.00
*Supplied on 1.0kg Packet