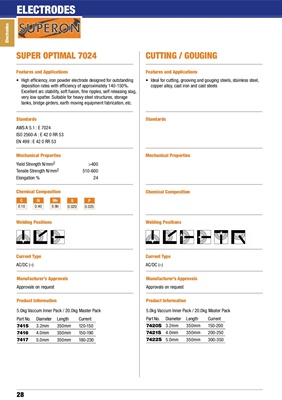 Standards
Mechanical Properties
Features and Applications
• Ideal for cutting, grooving and gouging steels, stainless steel,
copper alloy, cast iron and cast steels
Welding Positions
Product Information
Current Type
AC/DC (-)
Approvals on request
Manufacturer's Approvals
Chemical Composition
5.0kg Vaccum Inner Pack / 20.0kg Master Pack
CUTTING / GOUGING
ELECTRODES
Part No. Diameter Length Current
7420S 3.2mm 350mm 150-200
7421S 4.0mm 350mm 200-250
7422S 5.0mm 350mm 300-350
Welding Positions
Standards
Mechanical Properties
C
0.10
Si
0.40
Mn
0.90
AWS A 5.1 : E 7024
ISO 2560-A : E 42 0 RR 53
EN 499 : E 42 0 RR 53
Yield Strength N/mm2 >400
Tensile Strength N/mm2 510-600
Elongation % 24
Features and Applications
• High efficiency, iron powder electrode designed for outstanding
deposition rates with efficiency of approximately 140-150%.
Excellent arc stability, soft fusion, fine ripples, self releasing slag,
very low spatter. Suitable for heavy steel structures, storage
tanks, bridge girders, earth moving equipment fabrication, etc.
Current Type
AC/DC (-)
Chemical Composition
Product Information
5.0kg Vaccum Inner Pack / 20.0kg Master Pack
Approvals on request
Manufacturer's Approvals
SUPER OPTIMAL 7024
Part No. Diameter Length Current
7415 3.2mm 350mm 120-150
7416 4.0mm 350mm 150-190
7417 5.0mm 350mm 180-230
28
Electrodes
S
0.020
P
0.025