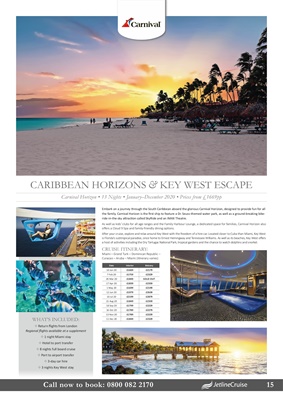 Call now to book: 0800 082 2170 15
WHAT'S INCLUDED:
✥ Return flights from London
Regional flights available at a supplement
✥ 1 night Miami stay
✥ Hotel to port transfer
✥ 8 nights full board cruise
✥ Port to airport transfer
✥ 3-day car hire
✥ 3 nights Key West stay
Embark on a journey through the South Caribbean aboard the glorious Carnival Horizion, designed to provide fun for all
the family. Carnival Horizon is the first ship to feature a Dr. Seuss-themed water park, as well as a ground-breaking bikeride-in-the-sky
attraction called SkyRide and an IMAX Theatre.
As well as kids' clubs for all age ranges and the Family Harbour Lounge, a dedicated space for families, Carnival Horizon also
offers a Cloud 9 Spa and family-friendly dining options.
After your cruise, explore and relax around Key West with the freedom of a hire car. Located closer to Cuba than Miami, Key West
is Florida's subtropical paradise, once home to Ernest Hemingway and Tennessee Williams. As well as its beaches, Key West offers
a host of activities including the Dry Tortugas National Park, tropical gardens and the chance to watch dolphins and snorkel.
CRUISE ITINERARY:
Miami - Grand Turk - Dominican Republic -
Curacao - Aruba - Miami (itinerary varies)
CARIBBEAN HORIZONS & KEY WEST ESCAPE
Carnival Horizon • 13 Nights • January-December 2020 • Prices from £1669pp
Date Interior Balcony
10 Jan 20 £1669 £2179
7 Feb 20 £1759 £2329
20 Mar 20 £1849 SOLD OUT
17 Apr 20 £1839 £2359
1 May 20 £1699 £2199
12 Jun 20 £1979 £2639
10 Jul 20 £2199 £2879
21 Aug 20 £1849 £2359
18 Sep 20 £1799 £2229
16 Oct 20 £1789 £2279
13 Nov 20 £1789 £2229
11 Dec 20 £1849 £2329