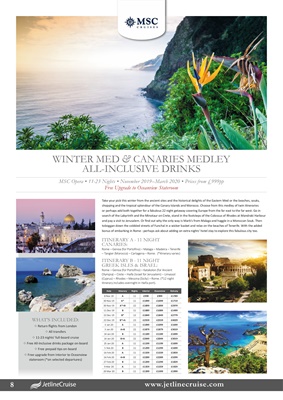 8
WINTER MED & CANARIES MEDLEY
ALL-INCLUSIVE DRINKS
MSC Opera • 11-23 Nights • November 2019-March 2020 • Prices from £999pp
Free Upgrade to Oceanview Stateroom
WHAT'S INCLUDED:
✥ Return flights from London
✥ All transfers
✥ 11-23 nights' full-board cruise
✥ Free All-Inclusive drinks package on-board
✥ Free prepaid tips on-board
✥ Free upgrade from Interior to Oceanview
stateroom (*on selected departures)
Take your pick this winter from the ancient sites and the historical delights of the Eastern Med or the beaches, souks,
shopping and the tropical splendour of the Canary Islands and Morocco. Choose from this medley of twin itineraries
or perhaps add both together for a fabulous 22 night getaway covering Europe from the far east to the far west. Go in
search of the Labyrinth and the Minotaur on Crete, stand in the footsteps of the Colossus of Rhodes at Mandraki Harbour
and pay a visit to Jerusalem. Or find out why the only way is Marb's from Malaga and haggle in a Moroccan Souk. Then
toboggan down the cobbled streets of Funchal in a wicker basket and relax on the beaches of Tenerife. With the added
bonus of embarking in Rome - perhaps ask about adding on extra nights' hotel stay to explore this fabulous city too.
ITINERARY A - 11 NIGHT
CANARIES:
Rome - Genoa (for Portofino) - Malaga - Madeira - Tenerife
- Tangier (Morocco) - Cartagena - Rome. (*Itinerary varies)
ITINERARY B - 11 NIGHT
GREEK ISLES & ISRAEL:
Rome - Genoa (for Portofino) - Katakolon (for Ancient
Olympia) - Crete - Haifa (Israel for Jerusalem) - Limassol
(Cyprus) - Rhodes - Messina (Sicily) - Rome. (*12 night
itinerary includes overnight in Haifa port).
Date Itinerary Nights Interior Oceanview Balcony
8 Nov 19 A 11 £999 £999 £1789
30 Nov 19 A* 11 £1099 £1099 £1719
30 Nov 19 A*+B 22 £1899 £1899 £2979
11 Dec 19 B 11 £1089 £1089 £1499
22 Dec 19 B* 12 £1849 £1849 £2779
22 Dec 19 B*+A 23 £2559 £2559 £4029
3 Jan 20 A 11 £1099 £1099 £1699
3 Jan 20 A+B 22 £1879 £1879 £3019
14 Jan 20 B 11 £1189 £1189 £1699
14 Jan 20 B+A 22 £2049 £2049 £3019
25 Jan 20 A 11 £1199 £1199 £1699
5 Feb 20 B 11 £1299 £1299 £1699
16 Feb 20 A 11 £1339 £1339 £1859
16 Feb 20 A+B 22 £2289 £2289 £3299
27 Feb 20 B 11 £1299 £1299 £1829
9 Mar 20 A 11 £1359 £1359 £1929
20 Mar 20 B 11 £1399 £1399 £1999