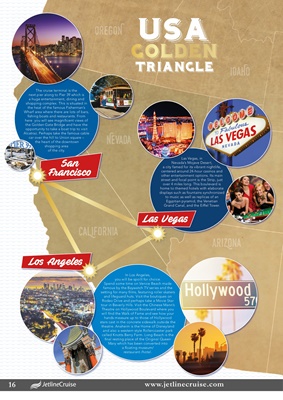 16
Nevada
caLifornia
The cruise terminal is the
next pier along to Pier 39 which is
a huge entertainment, dining and
shopping complex. This is situated in
the heat of the famous Fisherman's
Wharf area where there are lots of bars,
fishing boats and restaurants. From
here you will see magnificent views of
the Golden Gate Bridge and have the
opportunity to take a boat trip to visit
Alcatraz. Perhaps take the famous cable
car over the hill to Union square -
the heart of the downtown
shopping area
of the city.
In Los Angeles,
you will be spoilt for choice.
Spend some time on Venice Beach made
famous by the Baywatch TV series and the
setting for many films, featuring roller skaters
and lifeguard huts. Visit the boutiques on
Rodeo Drive and perhaps take a Movie Star
tour in Beverly Hills. Visit the Chinese Mann's
Theatre on Hollywood Boulevard where you
will find the Walk of Fame and see how your
hands measure up to those of Hollywood
stars cast in the concrete sidewalk outside the
theatre. Anaheim is the Home of Disneyland
and also a western style Rollercoaster park
called Knotts Berry Farm. Long Beach is the
final resting place of the Original Queen
Mary which has been converted into
a floating museum/
restaurant /hotel.
Las Vegas, in
Nevada's Mojave Desert,
a city famed for its vibrant nightlife,
centered around 24-hour casinos and
other entertainment options. Its main
street and focal point is the Strip, just
over 4 miles long. This boulevard is
home to themed hotels with elaborate
displays such as fountains synchronized
to music as well as replicas of an
Egyptian pyramid, the Venetian
Grand Canal, and the Eiffel Tower.
Los Angeles
San
Francisco oregoN
idaHo
ariZona
Las Vegas
USA
Golden
Triangle