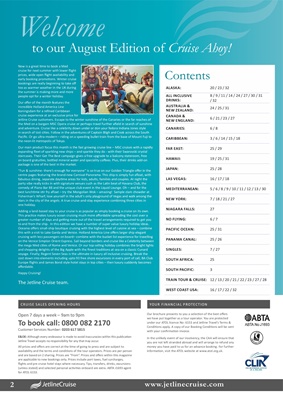 2 Open 7 days a week - 9am to 9pm
To book call: 0800 082 2170
Customer Services Number: 0203 617 5815
E&OE: Although every endeavour is made to avoid inaccuracies within this publication
Jetline Travel accepts no responsibility for any that may occur.
All prices and offers are correct at the time of going to press and are subject to
availability and the terms and conditions of the tour operators. Prices are per person
and are based on 2 sharing. Prices are "From". Prices and offers within this magazine
are applicable to new bookings only. Prices include port taxes, fuel surcharges,
flights and pre cruise hotel stays where necessary. Tips, transfers, drinks, excursions
(unless stated) and selected personal activities onboard are extra. ABTA J1693 agent
for ATOL 6153.
CRUISE SALES OPENING HOURS
Our brochure presents to you a selection of the best offers
we have put together as a tour operator. You are protected
under our ATOL licence No: 6153 and Jetline Travel's Terms &
Conditions apply. A copy of our Booking Conditions will be sent
with your confirmation invoice.
In the unlikely event of our insolvency, the CAA will ensure that
you are not left stranded abroad and will arrange to refund any
money you have paid to us for an advance booking. For further
information, visit the ATOL website at www.atol.org.uk.
YOUR FINANCIAL PROTECTION
Now is a great time to book a Med
cruise for next summer with lower flight
prices, wide open flight availability and
early booking promotions. Winter cruise
bookings are really beginning to take off
too as warmer weather in the UK during
the summer is making more and more
people opt for a winter holiday.
Our offer of the month features the
incredible Holland America Line
Koningsdam for a refined Caribbean
cruise experience at an exclusive price for
Jetline Cruise customers. Escape to the winter sunshine of the Canaries or the far reaches of
the Med on a bargain MSC Opera cruise or perhaps travel further afield in search of sunshine
and adventure. Cruise like a celebrity down under or don your fedora Indiana Jones style
in search of lost cities. Follow in the adventures of Captain Bligh and Cook across the South
Pacific. Or go ultra-modern - riding on a speeding bullet train from the base of Mount Fuji to
the neon-lit metropolis of Tokyo.
Our main product focus this month is the fast growing cruise line - MSC cruises with a rapidly
expanding fleet of sparkling new ships - and sparkle they do - with their Swarovski crystal
staircases. Their Get The Best campaign gives a free upgrade to a balcony stateroom, free
on board gratuities, bottled mineral water and speciality coffees. Plus, their drinks add-on
package is one of the best in the market.
"Fun & sunshine- there's enough for everyone" is so true on our Golden Triangle offer in the
centre pages featuring the brand-new Carnival Panorama. This ship is simply fun afloat, with
fabulous dining, separate daytime areas for kids, adults, families and couples. At night the
party vibe really kicks in with signature venues such as the Latin beat of Havana Club, the
comedy of Piano Bar 88 and the unique club event in the Liquid Lounge. Oh - and for the
best lunchtime stir fry afloat - try the Mongolian Wok - amazing! Sample clam chowder at
Fisherman's Wharf, lose yourself in the adult's only playground of Vegas and walk among the
stars in the city of the angels. A true cruise-and-stay experience combining three cities in
one holiday.
Adding a land-based stay to your cruise is as popular as simply booking a cruise on its own.
This practice makes luxury ocean cruising much more affordable spreading the cost over a
greater number of days and getting more out of the travel arrangements required to get you
to and from the ship. In this edition we have a number of super value luxury holiday ideas.
Oceania offers small-ship boutique cruising with the highest level of cuisine at sea - combine
this with a visit to Lake Garda and Venice. Holland America Line offers larger ship elegant
cruising with less passengers on board- combine with the bucket list experience for travelling
on the Venice Simplon Orient Express. Sail beyond borders and cruise like a Celebrity between
the mega Med cities of Rome and Venice. Or our top selling holiday combines the bright lights
and shopping delights of the Big Apple with the finest traditions at sea on a classic Cunard
voyage. Finally; Regent Seven Seas is the ultimate in luxury all inclusive cruising. Break the
cost down into elements including upto 93 free shore excursions in every port of call, BA Club
Europe flights and James Bond style hotel stays in top cities - then luxury suddenly becomes
affordable.
Happy Cruising!
The Jetline Cruise team.
to our August Edition of Cruise Ahoy!
Welcome
ALASKA: 20 / 23 / 32
ALL INCLUSIVE
DRINKS:
8 / 9 / 11 / 14 / 24 / 27 / 30 / 31
/ 32
AUSTRALIA &
NEW ZEALAND:
24 / 25 / 31
CANADA &
NEW ENGLAND:
6 / 21 / 23 / 27
CANARIES: 6 / 8
CARIBBEAN: 3 / 6 / 14 / 15 / 18
FAR EAST: 25 / 29
HAWAII: 19 / 25 / 31
JAPAN: 25 / 28
LAS VEGAS: 16 / 17 / 18
MEDITERRANEAN: 5 / 6 / 8 / 9 / 10 / 11 / 12 / 13 / 30
NEW YORK: 7 / 18 / 21 / 27
NIAGARA FALLS: 27
NO FLYING: 6 / 7
PACIFIC OCEAN: 25 / 31
PANAMA CANAL: 25 / 26
SINGLES: 7 / 27
SOUTH AFRICA: 25
SOUTH PACIFIC: 3
TRAIN TOUR & CRUISE: 12 / 13 / 20 / 21 / 22 / 23 / 27 / 28
WEST COAST USA: 16 / 17 / 22 / 32
Contents