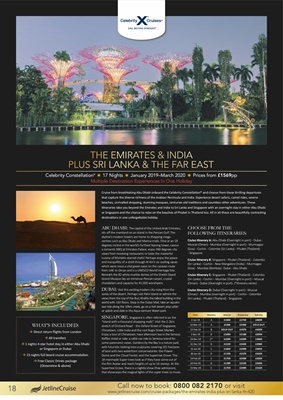 18
THE EMIRATES & INDIA
PLUS SRI LANKA & THE FAR EAST
Celebrity Constellation® ¬ 17 Nights ¬ January 2019-March 2020 ¬ Prices from £1569pp
Multiple Destination Experiences In One Holiday
WHAT'S INCLUDED:
✥ Direct return flights from London
✥ All transfers
✥ 1 nights 4-star hotel stay in either Abu Dhabi
or Singapore or Dubai
✥ 15 nights full board cruise accommodation
✥ Free Classic Drinks package
(Oceanview & above)
Cruise from breathtaking Abu Dhabi onboard the Celebrity Constellation® and choose from these thrilling departures
that capture the diverse richness of the Arabian Peninsula and India. Experience desert safaris, camel rides, serene
beaches, unrivalled shopping, stunning mosques, centuries-old traditions and countless other adventures. These
itineraries take you beyond the Emirates and India to Sri Lanka and Singapore with an overnight stay in either Abu Dhabi
or Singapore and the chance to relax on the beaches of Phuket in Thailand too. All in all these are beautifully contrasting
destinations in one unforgettable holiday.
ABU DHABI: The capital of the United Arab Emirates,
sits off the mainland on an island in the Persian Gulf. The
skyline's modern towers are home to shopping megacentres
such as Abu Dhabi and Marina malls. Dine at an 18
degrees incline in the world's furthest leaning tower, savour
a romantic BBQ at Emirates Palace, enjoy 360 degrees city
views from revolving restaurants or taste the masterful
cuisine of Michelin-starred chefs! Perhaps enjoy the peace
and tranquillity of a stroll through Al Ain's six cooling oases
which were once a vital green oasis on the caravan route
from UAE to Oman and is a UNESCO World Heritage Site.
Beneath the 82 white-marble domes of the Sheikh Zayed
Grand Mosque lies an immense Persian carpet, crystal
chandeliers and capacity for 41,000 worshipers.
DUBAI: Visit this exciting modern city rising from the
sands of the desert. Perhaps visit Palm Island or admire the
views from the top of the Burj Khalifa the tallest building in the
world with 163 floors. Shop in the Dubai Mall, take an aquatic
taxi ride along the 10km creek, go on a 4x4 desert jeep safari
or splash and slide in the Aqua-venture Water-park.
SINGAPORE. Singapore is often referred to as the
"Island with a thousand shopping malls". Visit the 2.2km
stretch of Orchard Road - the Oxford Street of Singapore,
Chinatown, Little India and the vast Bugis Street Market.
Enjoy a tour of Chinatown, have afternoon tea in the famous
Raffles Hotel or take a cable car ride to Sentosa Island for
some panoramic views. Gardens by the Bay is a nature park
with futuristic looking tree sculptures covering 101 hectares
of land with two waterfront conservatories: the Flower
Dome and the Cloud Forest; and the Supertree Grove. The
18 manmade Super trees look as if they have come out of
the film Avatar and reach heights of up to 16 storeys. At the
Supertree Grove, there is a nightly show (free admission),
that showcases the magical lights of the super trees to music.
Date Itinerary Interior Oceanview Balcony
3 Jan 19 A £1949 £2759 £4099
16 Mar 19 A £1569 £2369 SOLD OUT
15 Feb 19 B SOLD OUT £2979 £4399
1 Dec 19 D £1699 £2189 £2949
16 Dec 19 C* £2599 £2999 £3989
31 Dec 19 D £2139 £2429 £2989
15 Jan 20 C £1839 £2499 £3059
30 Jan 20 D £1739 £2379 £3249
14 Feb 20 C £1759 £2499 £3269
29 Feb 20 D £1789 £2529 £3299
15 Mar 20 C £1759 £2499 £3169
CHOOSE FROM THE
FOLLOWING ITINERARIES:
Cruise Itinerary A: Abu Dhabi (Overnight in port) - Dubai -
Muscat (Oman) - Mumbai (Overnight in port) - Murmagao
(Goa) - Cochin - Colombo (Sri Lanka) - Phuket (Thailand)
- Singapore.
Cruise Itinerary B: Singapore - Phuket (Thailand) - Colombo
(Sri Lanka) - Cochin - New Mangalore (India) - Murmagao
(Goa) - Mumbai (Bombay)- Dubai - Abu Dhabi.
Cruise Itinerary C: Singapore - Phuket (Thailand) - Colombo
(Sri Lanka) - Cochin - Mumbai (Overnight in port) - Muscat
(Oman) - Dubai (Overnight in port). (*Itinerary varies)
Cruise Itinerary D: Dubai (Overnight in port) - Muscat
(Oman) - Mumbai (overnight in port) - Cochin - Colombo
(Sri Lanka) - Phuket (Thailand) - Singapore.
Call now to book: 0800 082 2170 or visit
www.jetlinecruise.com/cruise-packages/the-emirates-india-plus-sri-lanka-th-420