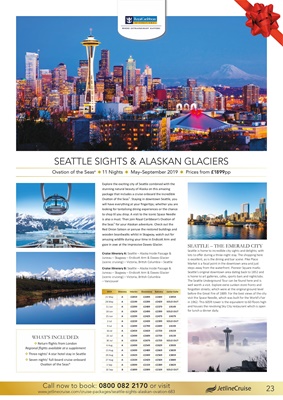 23
Cruise itinerary A: Seattle - Alaska Inside Passage &
Juneau - Skagway - Endicott Arm & Dawes Glacier
(scenic cruising) - Victoria, British Columbia - Seattle
Cruise itinerary B: Seattle - Alaska Inside Passage &
Juneau - Skagway - Endicott Arm & Dawes Glacier
(scenic cruising) - Victoria, British Columbia
- Vancouver
SEATTLE SIGHTS & ALASKAN GLACIERS
Ovation of the Seas ¬11 Nights ¬ May-September 2019 ¬ Prices from £1899pp
WHAT'S INCLUDED:
✥ Return flights from London
Regional flights available at a supplement
✥ Three nights' 4-star hotel stay in Seattle
✥ Seven nights' full-board cruise onboard
Ovation of the Seas®
2019 Itinerary Interior Oceanview Balcony Junior-Suite
21 May A £2059 £2099 £2449 £3959
28 May A £2199 £2299 £2429 SOLD OUT
11 Jun A £2399 £2489 £2379 £4149
18 Jun A £2429 £2499 £2399 SOLD OUT
25 Jun A £2299 £2429 £2479 £4379
2 Jul A £2239 £2439 £2399 SOLD OUT
9 Jul A £2499 £2799 £2699 £4199
16 Jul A £2459 £2659 £2729 £4159
23 Jul A £2499 £2699 £2739 £4139
30 Jul A £2559 £2679 £2729 SOLD OUT
6 Aug A £2499 £2549 £2629 £3939
13 Aug A £2499 £2489 £2669 £3839
20 Aug A £2429 £2449 £2569 £3859
27 Aug A £2339 £2429 £2569 £3889
3 Sep A £2099 £2159 £2289 £3829
10 Sep B £1899 £2099 £2169 SOLD OUT
Explore the exciting city of Seattle combined with the
stunning natural beauty of Alaska on this amazing
package that includes a cruise onboard the incredible
Ovation of the Seas®. Staying in downtown Seattle, you
will have everything at your fingertips; whether you are
looking for tantalising dining experiences or the chance
to shop til you drop. A visit to the iconic Space Needle
is also a must. Then join Royal Caribbean's Ovation of
the Seas® for your Alaskan adventure. Check out the
Red Onion Saloon or peruse the restored buildings and
wooden boardwalks whilst in Skagway, watch out for
amazing wildlife during your time in Endicott Arm and
gaze in awe at the impressive Dawes Glacier. SEATTLE - THE EMERALD CITY
Seattle is home to incredible city sights and delights; with
lots to offer during a three-night stay. The shopping here
is excellent, as is the dining and bar scene. Pike Place
Market is a focal point in the downtown area and just
steps away from the waterfront. Pioneer Square marks
Seattle's original downtown area dating back to 1852 and
is home to art galleries, cafes, sports bars and nightclubs.
The Seattle Underground Tour can be found here and is
well worth a visit. Explore eerie sunken store fronts and
forgotten streets; which were at the original ground level
before the Great Fire of 1889. For the best views of the city
visit the Space Needle, which was built for the World's Fair
in 1962. This 605ft tower is the equivalent to 60 floors high
and houses the revolving Sky City restaurant which is open
for lunch a dinner daily.
Call now to book: 0800 082 2170 or visit
www.jetlinecruise.com/cruise-packages/seattle-sights-alaskan-ovation-683