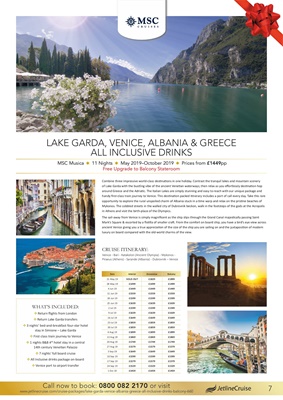 LAKE GARDA, VENICE, ALBANIA & GREECE
ALL INCLUSIVE DRINKS
MSC Musica ¬ 11 Nights ¬ May 2019-October 2019 ¬ Prices from £1449pp
Free Upgrade to Balcony Stateroom
WHAT'S INCLUDED:
✥ Return flights from London
✥ Return Lake Garda transfers
✥ 3 nights' bed-and-breakfast four-star hotel
stay in Simione - Lake Garda
✥ First class train journey to Venice
✥ 1 nights B&B 4* hotel stay in a central
14th century Venetian Palazzo
✥ 7 nights' full board cruise
✥ All Inclusive drinks package on-board
✥ Venice port to airport transfer
Combine three impressive world-class destinations in one holiday. Contrast the tranquil lakes and mountain scenery
of Lake Garda with the bustling vibe of the ancient Venetian waterways; then relax as you effortlessly destination hop
around Greece and the Adriatic. The Italian Lakes are simply stunning and easy to reach with our unique package and
handy first-class train journey to Venice. This destination packed itinerary includes a port of call every day. Take this rare
opportunity to explore the rural unspoiled charm of Albania stuck in a time warp and relax on the pristine beaches of
Mykonos. The cobbled streets in the walled city of Dubrovnik beckon, walk in the footsteps of the gods at the Acropolis
in Athens and visit the birth-place of the Olympics.
The sail-away from Venice is simply magnificent as the ship slips through the Grand Canal majestically passing Saint
Mark's Square & escorted by a flotilla of smaller craft. From the comfort on board ship, you have a bird's eye view across
ancient Venice giving you a true appreciation of the size of the ship you are sailing on and the juxtaposition of modern
luxury on board compared with the old-world charms of the view.
CRUISE ITINERARY:
Venice - Bari - Katakolon (Ancient Olympia) - Mykonos -
Piraeus (Athens) - Sarande (Albania) - Dubrovnik - Venice
Date Interior Oceanview Balcony
21 May 19 SOLD OUT £1829 £1899
28 May 19 £1499 £1499 £1499
4 Jun 19 £1449 £1449 £1449
11 Jun 19 £1559 £1559 £1559
18 Jun 19 £1599 £1599 £1599
25 Jun 19 £1639 £1639 £1639
2 Jul 19 £1599 £1599 £1599
9 Jul 19 £1639 £1639 £1639
16 Jul 19 £1649 £1649 £1649
23 Jul 19 £1859 £1859 £1859
30 Jul 19 £1859 £1859 £1859
6 Aug 19 £1899 £1899 £1899
13 Aug 19 £1869 £1869 £1869
20 Aug 19 £1749 £1749 £1749
27 Aug 19 £1579 £1579 £1579
3 Sep 19 £1649 £1649 £1649
10 Sep 19 £1599 £1599 £1599
17 Sep 19 £1579 £1579 £1579
24 Sep 19 £1529 £1529 £1529
1 Oct 19 £1459 £1459 £1459
7
Call now to book: 0800 082 2170 or visit
www.jetlinecruise.com/cruise-packages/lake-garda-venice-albania-greece-all-inclusive-drinks-balcony-660