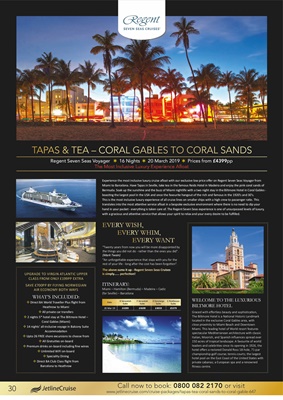 30
TAPAS & TEA - CORAL GABLES TO CORAL SANDS
Regent Seven Seas Voyager ¬ 16 Nights ¬ 20 March 2019 ¬ Prices from £4399pp
The Most Inclusive Luxury Experience Afloat
ITINERARY:
Miami - Hamilton (Bermuda) - Madeira - Cadiz
(for Seville) - Barcelona
Date
H Verandah
Suite
F Verandah
Suite
E Concierge
Suite
C Penthouse
Suite
20 Mar 19 £4399 £4699 £4959 £5379
Experience the most inclusive luxury cruise afloat with our exclusive low price offer on Regent Seven Seas Voyager from
Miami to Barcelona. Have Tapas in Seville, take tea in the famous Reids Hotel in Madeira and enjoy the pink coral sands of
Bermuda. Soak up the sunshine and the buzz of Miami nightlife with a two night stay in the Biltmore Hotel in Coral Gables -
boasting the largest pool in the USA and once the favourite hangout of the rich and famous in the 1920's and 30's.
This is the most inclusive luxury experience of all cruise lines on smaller ships with a high crew to passenger ratio. This
translates into the most attentive service afloat in a bespoke exclusive environment where there is no need to dip your
hand in your packet - everything is taken care of. The Regent Seven Seas experience is one of unsurpassed levels of luxury,
with a gracious and attentive service that allows your spirit to relax and your every desire to be fulfilled.
UPGRADE TO VIRGIN ATLANTIC UPPER
CLASS FROM ONLY £199PP EXTRA
SAVE £700PP BY FLYING NORWEGIAN
AIR ECONOMY BOTH WAYS
WHAT'S INCLUDED:
✥ Direct BA World Traveller Plus flight from
Heathrow to Miami
✥ All private car transfers
✥ 2 nights 5* hotel stay at The Biltmore Hotel -
Coral Gables (Miami)
✥ 14 nights' all-inclusive voyage in Balcony Suite
Accommodation
✥ Upto 26 FREE shore excursions to choose from
✥ All Gratuities on-board
✥ Premium drinks on-board including fine wines
✥ Unlimited WiFi on-board
✥ Speciality Dining
✥ Direct BA Club Class flight from
Barcelona to Heathrow
WELCOME TO THE LUXURIOUS
BILTMORE HOTEL
Graced with effortless beauty and sophistication,
The Biltmore Hotel is a National Historic Landmark
located in the exclusive Coral Gables area, with
close proximity to Miami Beach and Downtown
Miami. This leading hotel of World resort features
spectacular Mediterranean architecture with classic
Italian, Moorish, and Spanish influences spread over
150 acres of tropical landscape. A favourite of world
leaders and celebrities since its opening in 1926, the
hotel offers a restored Donald Ross 18-hole, 71-par
championship golf course; tennis courts; the largest
hotel pool on the East Coast of the United States with
private cabanas; a European spa and a renowned
fitness centre.
EVERY WISH,
EVERY WHIM,
EVERY WANT
"Twenty years from now you will be more disappointed by
the things you did not do - rather than the ones you did".
(Mark Twain)
"An unforgettable experience that stays with you for the
rest of your life - long after the cost has been forgotten".
The above sums it up - Regent Seven Seas Cruises
is simply...... perfection!
Call now to book: 0800 082 2170 or visit
www.jetlinecruise.com/cruise-packages/tapas-tea-coral-sands-to-coral-gable-647