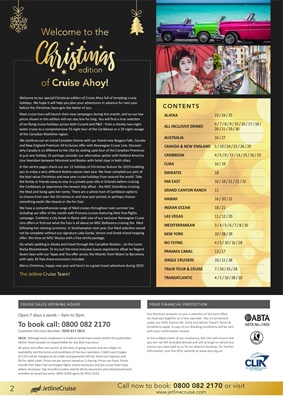 2 Open 7 days a week - 9am to 9pm
To book call: 0800 082 2170
Customer Services Number: 0203 617 5815
E&OE: Although every endeavour is made to avoid inaccuracies within this publication
Jetline Travel accepts no responsibility for any that may occur.
All prices and offers are correct at the time of going to press and are subject to
availability and the terms and conditions of the tour operators. Credit card charges
of 2.5% will be charged on all credit card payments (4% for American Express) and
0% for debit cards. Prices are per person based on 2 sharing. Prices are From. Prices
include Port Taxes fuel surcharges flights where necessary and pre cruise hotel stays
where necessary. Tips transfers (unless stated) drinks excursions and selected personal
activities on board are extra. ABTA J1693 agent for ATOL 6153.
CRUISE SALES OPENING HOURS
Our brochure presents to you a selection of the best offers
we have put together as a tour operator. You are protected
under our ATOL licence No: 6153 and Jetline Travel's Terms &
Conditions apply. A copy of our Booking Conditions will be sent
with your confirmation invoice.
In the unlikely event of our insolvency, the CAA will ensure that
you are not left stranded abroad and will arrange to refund any
money you have paid to us for an advance booking. For further
information, visit the ATOL website at www.atol.org.uk.
YOUR FINANCIAL PROTECTION
CONTENTS
Welcome to our special Christmas edition of Cruise Ahoy full of tempting cruise
holidays. We hope it will help you plan your adventures in advance for next year
before the Christmas fayre gets the better of you.
Most cruise lines will launch their new campaigns during this month; and so our low
prices shown in this edition will not stay low for long. You will find a true selection
of no-flying cruise holidays across both Cunard and P&O - from a cheeky two-night
taster cruise to a comprehensive 55 night tour of the Caribbean or a 29 night voyage
of the Canadian Maritime region.
We continue our on-trend Canadian theme with our brand-new Niagara Falls, Canada
and New England Premium All Inclusive offer with Norwegian Cruise Line. Discover
why Canada is so different to the USA by visiting upto four of the Canadian Provinces
in just one holiday. Or perhaps consider our alternative option with Holland America
Line Veendam between Montreal and Boston with hotel stays in both cities.
In the centre pages check out our 12 holidays of Christmas feature for 2019 enabling
you to enjoy a very different festive season next year. We have compiled our pick of
the best value Christmas and new year cruise holidays from around the world. Take
the family or friends away to stay in a private pool villa in Orlando before cruising
the Caribbean; or experience the newest ship afloat - the MSC Grandiosa cruising
the Med and living upto her name. There are a whole host of Caribbean options
to choose from over the Christmas or and new year period; or perhaps choose
something exotic like Hawaii or the Far East.
We have a comprehensive range of Med cruises throughout next summer too
including our offer of the month with Princess cruises featuring their free flights
campaign. Combine a city break in Rome with one of our exclusive Norwegian Cruise
Line offers or find out what the fuss is all about on MSC Bellissima cruising the Med
following her naming ceremony in Southampton next year. Our Med selection would
not be complete without our signature Lake Garda, Venice and Greek Island hopping
offer- this time on MSC Musica with a free drinks package.
Go whale spotting in Alaska and travel through the Canadian Rockies - on the iconic
Rocky Mountaineer. Or try out the most inclusive luxury experience afloat on Regent
Seven Seas with our Tapas and Tea offer across the Atlantic from Miami to Barcelona
with upto 26 free shore excursions included.
Merry Christmas, happy new year and here's to a great travel adventure during 2019.
The Jetline Cruise Team!
ALASKA 23 / 24 / 25
ALL INCLUSIVE DRINKS
6 / 7 / 8 / 9 / 15 / 16 / 17 / 18 /
20 / 21 / 29 / 30
AUSTRALIA 16 / 27
CANADA & NEW ENGLAND 5 / 10 / 24 / 25 / 26 / 29
CARIBBEAN 4 / 5 / 9 / 13 / 14 / 15 / 16 / 19
CUBA 16 / 19
EMIRATES 18
FAR EAST 16 / 18 / 21 / 22 / 32
GRAND CANYON RANCH 11
HAWAII 16 / 20 / 21
INDIAN OCEAN 18 / 21
LAS VEGAS 11 / 12 / 20
MEDITERRANEAN 3 / 4 / 5 / 6 / 7 / 8 / 16
NEW YORK 10 / 28 / 29
NO FLYING 4 / 5 / 10 / 16 / 28
PANAMA CANAL 13 / 17
SINGLE CRUISERS 10 / 11 / 28
TRAIN TOUR & CRUISE 7 / 24 / 25 / 28
TRANSATLANTIC 4 / 5 / 10 / 28 / 30
Christmasedition
Welcome to the
of Cruise Ahoy! Call now to book: 0800 082 2170 or visit