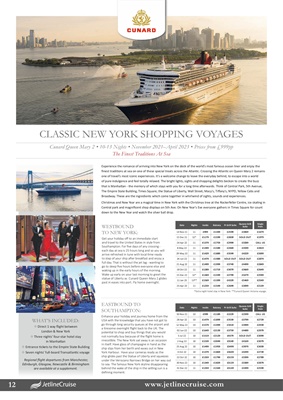 12
EASTBOUND TO
SOUTHAMPTON:
Enhance your holiday and journey home from the
USA with the knowledge that you have not got to
go through long security queues at the airport and
a tiresome overnight flight back to the UK. The
potential to shop and buy things that you would
not normally buy because of the flight home is
irresistible. The New York sail away is an occasion
in itself. Have glass of champagne in hand as the
ship slips from her berth and eases out in New
York Harbour. Have your cameras ready as the
ship glides past the Statue of Liberty and squeezes
under the Verrazano Narrows Bridge on her way out
to sea. The famous New York skyline disappearing
behind the wake of the ship in the setting sun is a
defining moment.
WHAT'S INCLUDED:
✥ Direct 1 way flight between
London & New York
✥ Three nights' four-star hotel stay
in Manhattan
✥ Entrance tickets to the Empire State Building
✥ Seven nights' full-board Transatlantic voyage
Regional flight departures from Manchester,
Edinburgh, Glasgow, Newcastle & Birmingham
are available at a supplement.
Experience the romance of arriving into New York on the deck of the world's most famous ocean liner and enjoy the
finest traditions at sea on one of these special treats across the Atlantic. Crossing the Atlantic on Queen Mary 2 remains
one of travel's most iconic experiences. It's a welcome change to leave the everyday behind, to escape into a world
of pure indulgence and feel totally relaxed. The bright lights, sights and shopping delights beckon to create the buzz
that is Manhattan - the memory of which stays with you for a long time afterwards. Think of Central Park, 5th Avenue,
The Empire State Building, Times Square, the Statue of Liberty, Wall Street, Macy's, Tiffany's, NYPD, Yellow Cabs and
Broadway. These are the ingredients which come together in whirlwind of sights, sounds and experiences.
Christmas and New Year are a magical time in New York with the Christmas tree at the Rockerfeller Centre, ice skating in
Central park and magnificent shop displays on 5th Ave. On New Year's Eve everyone gathers in Times Square for count
down to the New Year and watch the silver ball drop.
CLASSIC NEW YORK SHOPPING VOYAGES
Cunard Queen Mary 2 • 10-13 Nights • November 2021-April 2023 • Prices from £999pp
The Finest Traditions At Sea
Date Nights Inside Balcony Pr Grill Suite
Queens Grill
Suite
Single
from
14 Nov 21 11 £999 £1349 £2599 £3069 £1679
15 Dec 21 12* £1179 £1599 £2839 SOLD OUT £1979
24 Apr 22 11 £1379 £1759 £2999 £3289 CALL US
8 May 22 11 £1399 £1589 £2469 £3599 £2819
29 May 22 11 £1429 £1889 £3599 £4229 £2699
24 Jun 22 11 £1479 £1989 SOLD OUT SOLD OUT £2879
21 Aug 22 11 £1499 £1999 £3749 £4499 £2849
18 Oct 22 11 £1289 £1719 £3079 £3669 £2649
15 Dec 22 12* £1369 £1599 £2799 £3279 £2599
11 Jan 23 13** £1569 £1399 £4329 £5469 £2549
23 Apr 23 11 £1259 £1549 £2699 £3099 £2139
*Extra night hotel stay in New York. **Cunard Queen Victoria voyage.
WESTBOUND
TO NEW YORK:
Get your holiday off to an immediate start
and travel to the United States in style from
Southampton. For five days of any crossing -
each day at sea is 25 hours long and so you will
arrive refreshed in tune with local time ready
to step of your ship after breakfast and enjoy a
full day. That is without the jet lag - wanting to
go to sleep five hours before everyone else and
waking up in the early hours of the morning.
Wake up early on your last morning to greet the
statue of Liberty as Cunard Queen Mary 2 glides
past in eases into port. Fly home overnight.
Date Nights Inside Balcony Pr Grill Suite
Queens Grill
Suite
Single
from
30 Nov 21 10 £999 £1189 £2229 £2599 CALL US
28 Apr 22 10 £1479 £1899 £3539 £3799 £2729
12 May 22 10 £1579 £1999 £3419 £3999 £2939
02 Jun 22 10 £1649 £2139 £3759 £4489 £2979
5 Jul 22 10 £1519 £2129 £4379 SOLD OUT £3099
2 Aug 22 10 £1539 £2049 £3549 £4169 £3079
25 Aug 22 10 £1499 £1959 £3499 £3979 £3039
4 Oct 22 10 £1379 £1869 £3649 £4299 £2739
22 Oct 22 10 £1359 £1799 £3159 £3399 £2789
30 Nov 22 10 £1349 £1829 £3129 £3389 £2879
31 Dec 22 11 £1359 £1569 £3149 £3399 £2599