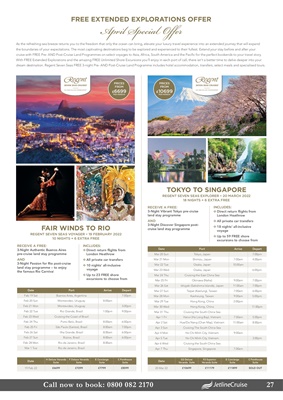 Call now to book: 0800 082 2170 27
Date
H Deluxe Veranda
Suite
F Deluxe Veranda
Suite
E Concierge
Suite
C Penthouse
Suite
19 Feb 22 £6699 £7299 £7799 £8599
FAIR WINDS TO RIO
REGENT SEVEN SEAS VOYAGER • 19 FEBRUARY 2022
10 NIGHTS + 6 EXTRA FREE
RECEIVE A FREE:
3-Night Authentic Buenos Aires
pre-cruise land stay programme
AND
3-Night Passion for Rio post-cruise
land stay programme - to enjoy
the famous Rio Carnival
INCLUDES:
✥ Direct return flights from
London Heathrow
✥ All private car transfers
✥ 10 nights' all-inclusive
voyage
✥ Up to 23 FREE shore
excursions to choose from
Date Port Arrive Depart
Feb 19 Sat Buenos Aires, Argentina 7:00pm
Feb 20 Sun Montevideo, Uruguay 8:00am
Feb 21 Mon Montevideo, Uruguay 3:00pm
Feb 22 Tue Rio Grande, Brazil 1:00pm 9:00pm
Feb 23 Wed Cruising the Coast of Brazil
Feb 24 Thu Porto Belo, Brazil 8:00am 6:00pm
Feb 25 Fri São Paulo (Santos), Brazil 8:00am 7:00pm
Feb 26 Sat Ilha Grande, Brazil 8:00am 6:00pm
Feb 27 Sun Búzios, Brazil 8:00am 6:00pm
Feb 28 Mon Rio de Janeiro, Brazil 8:00am
Mar 1 Tue Rio de Janeiro, Brazil
PRICES
FROM
£6699 PER PERSON
FREE EXTENDED EXPLORATIONS OFFER
April Special Offer
As the refreshing sea breeze returns you to the freedom that only the ocean can bring, elevate your luxury travel experience into an extended journey that will expand
the boundaries of your expectations. The most captivating destinations beg to be explored and experienced to their fullest. Extend your stay before and after your
cruise with FREE Pre- AND Post-Cruise Land Programmes on select voyages to Asia, Africa, South America and the Pacific for the perfect bookends to your travel story.
With FREE Extended Explorations and the amazing FREE Unlimited Shore Excursions you'll enjoy in each port of call, there isn't a better time to delve deeper into your
dream destination. Regent Seven Seas FREE 3-night Pre- AND Post-Cruise Land Programme includes hotel accommodation, transfers, select meals and specialised tours.
Date
G2 Deluxe
Veranda Suite
F2 Superior
Veranda Suite
E Concierge
Suite
C Penthouse
Suite
20 Mar 22 £10699 £11179 £11899 SOLD OUT
TOKYO TO SINGAPORE
REGENT SEVEN SEAS EXPLORER • 20 MARCH 2022
18 NIGHTS + 6 EXTRA FREE
RECEIVE A FREE:
3-Night Vibrant Tokyo pre-cruise
land stay programme
AND
3-Night Discover Singapore postcruise land stay programme
INCLUDES:
✥ Direct return flights from
London Heathrow
✥ All private car transfers
✥ 18 nights' all-inclusive
voyage
✥ Up to 59 FREE shore
excursions to choose from
Date Port Arrive Depart
Mar 20 Sun Tokyo, Japan 7:00pm
Mar 21 Mon Shimizu, Japan 7:00am 4.00pm
Mar 22 Tue Osaka, Japan 10.00am
Mar 23 Wed Osaka, Japan 6:00pm
Mar 24 Thu Cruising the East China Sea
Mar 25 Fri Okinawa (Naha) 9:00am 7:00pm
Mar 26 Sat Ishigaki (Sakishima Islands), Japan 11:00am 7:00pm
Mar 27 Sun Taipei (Keelung), Taiwan 7:00am 6:00pm
Mar 28 Mon Kaohsiung, Taiwan 9:00am 5:00pm
Mar 29 Tue Hong Kong, China 2:00pm
Mar 30 Wed Hong Kong, China 11.00pm
Mar 31 Thu Cruising the South China Sea
Apr 1 Fri Hanoi (Ha Long Bay), Vietnam 7.00am 5.00pm
Apr 2 Sat Hue/Da Nang (Chan May), Vietnam 11:00am 8.00pm
Apr 3 Sun Cruising The South China Sea
Apr 4 Mon Ho Chi Minh City, Vietnam 9:00am
Apr 5 Tue Ho Chi Minh City, Vietnam 3.00pm
Apr 6 Wed Cruising the South China Sea
Apr 7 Thu Singapore, Singapore 7.00am
PRICES
FROM
£10699
PER PERSON