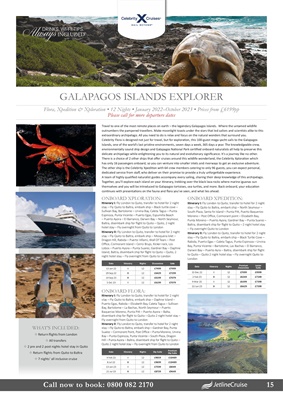 Call now to book: 0800 082 2170 15
WHAT'S INCLUDED:
✥ Return flights from London
✥ All transfers
✥ 2 pre and 2 post nights hotel stay in Quito
✥ Return flights from Quito to Baltra
✥ 7 nights' all inclusive cruise
Travel to one of the most remote places on earth - the legendary Galapagos Islands. Where the untamed wildlife
outnumbers the pampered travellers. Make moonlight toasts under the stars that led sailors and scientists alike to this
extraordinary archipelago. All you need to do is relax and focus on the natural wonders that surround you.
Celebrity Flora is designed not just for travel, but for exploration, this 100-guest mega-yacht sails to the Galapagos
Islands, one of the world's last pristine environments, seven days a week, 365 days a year. The knowledgeable crew,
environmentally sound ship design and Galapagos National Park certified onboard naturalists all help to preserve this
delicate archipelago while enlightening you to its natural and evolutionary significance. It's a journey like no other.
There is a choice of 2 other ships that offer cruises around this wildlife wonderland, the Celebrity Xploration which
has only 16 passengers onboard, so you can venture into smaller inlets and riverways to get an exclusive adventure.
The other ship is the Celebrity Xpedition with 64 crew members catering to only 96 guests, you can expect personal,
dedicated service from staff, who deliver on their promise to provide a truly unforgettable experience.
A team of highly qualified naturalist guides accompany every sailing, sharing their deep knowledge of this archipelago.
Together, you'll explore each island on your itinerary, trekking over the black lava rocks where marine iguanas sun
themselves and you will be introduced to Galapagos tortoises, sea turtles, and more. Back onboard, your education
continues with presentations on the fauna and flora you've seen, and what lies ahead.
GALAPAGOS ISLANDS EXPLORER
Flora, Xpedition & Xploration • 12 Nights • January 2022-October 2023 • Prices from £6199pp
Please call for more departure dates
ONBOARD XPLORATION:
Itinerary I: Fly London to Quito, transfer to hotel for 2 night
stay - Fly Quito to Baltra, embark ship - Black turtle cove -
Sullivan Bay, Bartolome - Urvina Bay, Caleta Tagus - Punta
Espinoza, Punta Vicente - Puerto Egas, Espumilla Beach
- Puerto Ayora - El Barranco, Darwin Bay - North Seymour,
Baltra, disembark ship for flight to Quito - Quito, 2 night
hotel stay - Fly overnight from Quito to London
Itinerary II: Fly London to Quito, transfer to hotel for 2 night
stay - Fly Quito to Baltra, embark ship - Mosquera Islet -
Dragon Hill, Rabida - Puerto Villami, Wall Of Tears - Post
Office, Cormorant Island - Cerro Brujo, Kicker rock, Los
Lobos - Puerto Ayora - Punta Suarez, Gardner Bay - Daphne
Island, Baltra, disembark ship for flight to Quito - Quito, 2
night hotel stay - Fly overnight from Quito to London
Date Itinerary Nights Oceanview Suite
13 Jan 22 I 12 £7499 £7999
29 Sep 22 II 12 £6429 £7299
14 Sep 23 II 12 £6199 £7079
5 Oct 23 I 12 £6199 £7079
ONBOARD FLORA:
Itinerary I: Fly London to Quito, transfer to hotel for 2 night
stay - Fly Quito to Baltra, embark ship - Daphne Island -
Puerto Egas, Rabida - Elizabeth Bay, Caleta Tagus - Sullivan
Bay, Bartolome - La Bachas, North Seymour - Puerto
Baquerizo Moreno, Punta Pitt - Puerto Ayora - Balta,
disembark ship for flight to Quito - Quito 2 night hotel stay -
Fly overnight from Quito to London
Itinerary II: Fly London to Quito, transfer to hotel for 2 night
stay - Fly Quito to Baltra, embark ship - Gardner Bay, Punta
Suarez - Cormorant Point, Post Office - Punta Moreno, Urvina
Bay - Punta Espinoza, Punta Vicente - South Plaza, Dragon
Hill - Punta Ayora - Baltra, disembark ship for flight to Quito -
Quito 2 night hotel stay - Fly overnight from Quito to London
Date Itinerary Nights Sky Suite Premium
Sky Suite
4 Feb 22 I 12 £9059 £10489
8 Jul 22 II 12 £9699 £10489
13 Jan 23 I 12 £7599 £8049
21 Jul 23 II 12 £8729 £9649
ONBOARD XPEDITION:
Itinerary I: Fly London to Quito, transfer to hotel for 2 night
stay - Fly Quito to Baltra, embark ship - North Seymour -
South Plaza, Santa Fe Island - Punta Pitt, Puerto Baquerizo
Moreno - Post Office, Cormorant point - Elizabeth Bay,
Punta Moreno - Puerto Ayora, Gardner Bay - Punta Suarez -
Baltra, disembark ship for flight to Quito - 2 night hotel stay
- Fly overnight Quito to London
Itinerary II: Fly London to Quito, transfer to hotel for 2 night
stay - Fly Quito to Baltra, embark ship - Black Turtle Cove -
Rabida, Puerto Egas - Caleta Tagus, Punta Espinoza - Urvina
Bay, Punta Vicente - Bartolome, Las Bachas - El Barranco,
Darwin Bay - Puerto Ayra - Baltra, disembark ship for flight
to Quito - Quito 2 night hotel stay - Fly overnight Quito to
London
Date Itinerary Nights Premium
Oceanview
Junior
Suite
15 Dec 22 I 12 £7099 £9999
2 Feb 23 II 12 £6269 £7349
9 Mar 23 I 12 £6399 £7399
22 Jun 23 II 12 £6629 £7399